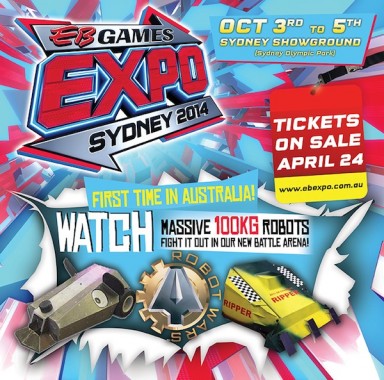 The EB Expo is coming back to the Sydney Showground, October 3-5! Tickets will be going on sale next Thursday, April the 24th, at 10am AEST.
All the biggest publishers, including Activision, Electronic Arts, Nintendo, PlayStation, Ubisoft, Warner Bros. Interactive Entertainment, and Xbox – among many more – have confirmed their participation. But the 2014 expo won't just be figuratively bigger than the last, but literally too as it will be held within a new, 35,000sqm pavillion.
Making use of this space, Robot Wars UK are making the trip Down Under to battle it out with their 100kg robots, which you'll be able to see up close with photo opportunities in each arena show and Q&A. EB Games National Brand, Events & Engagement Manager Debra McGrath had the following to say on the event;
The EB Expo is a video game mecca with the big draw card being hands-on game play with the hottest unreleased games. Add all the live shows, awesome attractions and a night time fireworks and pyrotechnics show – it truly is a gaming utopia. Whether you're a gaming enthusiast or someone who just likes to play with your family, you'll be spoilt for choice over the weekend. We've kept everyone's favourite events and live shows from last year and planning heaps of new exciting content that will make this year's EB Expo the biggest and best ever.
There will be plenty of options for teens and families looking to kick off school holidays right with a discounted Multiplayer Pass, the Friday Daylight Session and Sunday Family Day tickets available. On the Sunday, families can enjoy major attractions like the Video Game Hero parade, meet the stars of the ABC show 'Good Game', and take part in free activities such as face painting, balloon twisting and much more. Attendees can relax at the Lovesac Handheld Lounge & Stage or Family Zone Cafe, take their kids to the Tumbletown playground area, and play for prizes in a Mario Kart tournament – all new festivities for this year. Also to be introduced are Free Play City, Retro Central Park, The Arcade, the Console Business District and The NXT Gen Lab.
For more information on the above attractions, as well as a detailed schedule and ticket pricing, visit www.ebexpo.com.au. Remember, tickets for EB Expo 2014 go on sale April 24.