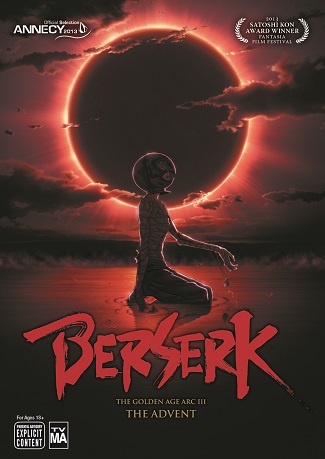 This week Viz Media has released the third movie in Berserk: The Golden Age Arc. This movie, titled Berserk: The Golden Age Arc III – The Advent can be picked up on either Blu-ray for $24.98 US / $27.50 CAN or on DVD for $19.98 US / $24.98 CAN.
The DVD release contains a production art gallery, theatrical trailers and Japanese promo videos as special features while the Blu-ray version features all of the content from the DVD release as well as a highlight reel of the theatrical premiere of the second movie in the United States, outtakes from The Advent as well as The Egg of the King, and an interview with the president of Studio 4°C, Eiko Tanaka.
This movie marks the conclusion of the Golden Age arc which "unfolds in a magnificently violent nightmare, signifying the birth of a new era." With Griffin in prison for over a year in the Kingdom of Midland, the Band of the Hawk has been on the run and is nearly breaking apart. However when Guts returns to the Hawks they resume their search for Griffith.