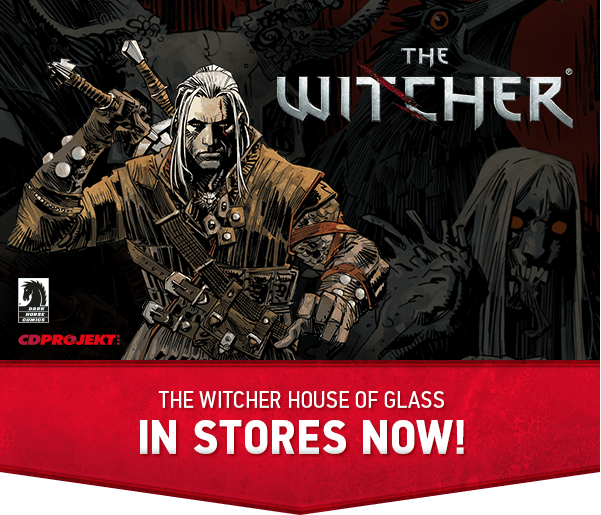 CD Projekt RED and Dark Horse comics are both extremely excited to announce that the brand-new comic book series based off of the critically acclaimed video game series "The Witcher" has just been released and fans of the brilliant game series are going absolutely nuts about it! In a good way of course. If you are a big fan of the video game series than you'd probably be aware of the large and extremely detailed universe that it takes place in, well that world is about to get even bigger with the release of this new comic . Created by Paul Tobin with illustrations done by both Joe Querio and Dave Johnson (cover art), this series takes witcher Geralt on a new adventure and into the dark grips of a mysterious mansion known as the "House Of Glass". The official Synopsis is as follows:
Travelling near the edge of the Black Forest, in the land of the Angren, witcher Geralt meets a widowed man whose dead and murderous wife resides in an eerie mansion known as the House of Glass. With its endless rooms and horror around every corner, Geralt will have to use all his witcher prowess to solve the manor's mystery and survive.
"The Witcher: House Of Glass" is a available now in all good comic book retailers as well as online vendors. Head down to your local comic book store or just head straight onto your Dark Horse Comics app which you can get on any iOS (Click Here) and Android (Click Here) devices. The comic is also available directly from the Dark Horse digital comic book store which you can get to by Clicking Here. Alonside a few preview images of the new comic we also have the launch trailer for you all to watch so head down below this article to check out both the small preview gallery and the trailer but don't forget to let us know what you're thinking in the comments section just below all that.