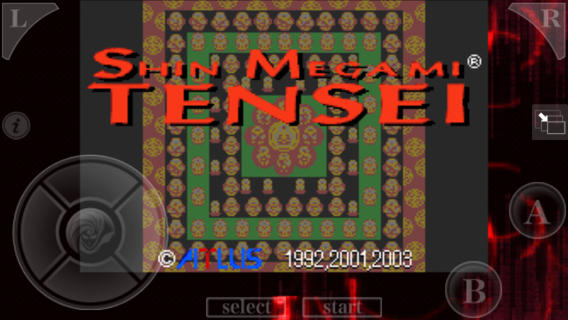 Welcome back for this week's iOS Game Suggestions. If you missed last week's, or are new to the suggestions, click on the link below and check out what cool games you should be picking up for your iOS device along with the introduction on how the suggestions work. (suggestions 1 has how it all works)
MasterAbbott's iOS Game Suggestions
A great week on iTunes! As always, it started slow and but ended with a bang! There are many must-buy games this week in all departments, FREE, 99c and over 99c. This week I've suggested a total of 16 great quality titles. Make sure you check them all especially… Shin Megami Tensei, 999: The Move, Braveland, Tiny City, Darkstone, Cardinal Quest, The Collectables and Star Horizon   just to name a few.
Break down below :
9 – FREE Games
1 – $0.99c Games
6 – Over $0.99c Games
As always for this week's suggestions are all new titles that you should take a look at and consider spending your hard earned iTunes cash / time on.  Well the Free games just below certainly should all be given a shot as they won't cost you anything!
For The Cheapskates – FREE GAMES
 

MASTERABBOTT'S FREE GAME PICK OF THE WEEK!

Monster Legacy – Price : FREE – Publisher – Outplay Entertainment (BATTLE, COLLECT and EVOLVE AWESOME MONSTERS! Conquer evil and create your own legacy!
Explore treacherous dungeons and solve testing puzzles in extraordinary locations, filled with endless challenges! Capture wild Monsters and evolve them into epic new forms! Train your Monsters to endure battle with friend and foe, and defeat the Evil Lord Ardur!) on iPad & iPhone. GET IT NOW FOR FREE

Tiny City – Price : FREE – Publisher –

Chillingo

 (You have just opened a shop in a tiny town with a tiny population. Local authorities turned their backs on the citizens a long time ago, so now you are the town's last hope! Your goal is simple: lead the town to prosperity, turning it into true metropolis. Use your wits, plan the development and urban sprawl of your would-be metropolis — in other words, build a city of your dreams!

) runs on iPad & iPhone.

GET IT NOW FOR FREE

 
Darkstone – Price : FREE – Publisher –

Microids

 (The Evil Draak has joined forces with Death and is destroying everything in his path! Explore huge dungeons to find the 7 Legendary Crystals to put an end to his vile acts. It is highly unlikely that you'll be able to survive in the hostile regions of this desolate land. Be warned, the fighting will be fierce, but the adventure will be epic!

) runs on iPad & iPhone.

GET IT NOW FOR FREE

 
Scallywags – Price : FREE – Publisher –

Funday Factory

 (The Scallywags have plundered your swag! Show those scurvy dogs who the real pirate is! Aim your cannon and fire down the thieving Scallywags to reclaim your stolen swag. Shoot them quickly before they bounce away with your precious treasure, but remember to dodge their cannon balls. You must captain your ship all across the world from the cozy Blue Oyster in Ocean World to the Firefall Gully and the Glittering Caves. Beware of the greater threats roaming the seas; Bob the Kraken was spotted with a treasure chest full of swag. 

) runs on iPad & iPhone.

GET IT NOW FOR FREE

 
Adventure Beaks – Price : FREE – Publisher –

GameResort

 (Begin your quest with Adventure Beaks, the only platformer where you assemble an expedition party of elite Penguin adventurers! Explore ancient ruins and exotic lands on a journey to discover the secret of the Artifacts! Run, jump, slide, and dive your way through tricky traps, enemy hoards, and cavernous mazes, all with simple, responsive touch controls!

) runs on iPad & iPhone.

GET IT NOW FOR FREE

 

Pirates Of Everseas – Price : FREE – Publisher – Glu Games (Ahoy, Captain! Embark on an epic adventure to rule the untamed waters! Create a seafaring, swashbuckling empire in Pirates of Everseas! Develop your city, construct ships, explore the open sea, and raid enemies in this exciting strategy game!) on iPad & iPhone. GET IT NOW FOR FREE

 
Cardinal Quest 2 – Price : FREE – Publisher –

Kongregate

 (Explore challenging dungeons! Encounter dangerous enemies as you grow in power and avoid the ever-present threat of death! Challenge yourself in this this FREE ROGUELIKE RPG!  Cardinal Quest 2 is an approachable yet challenging roleplaying game. Dive into dangerous dungeons with unique characters and climb the leaderboards. 

) runs on iPad & iPhone.

GET IT NOW FOR FREE

 

The Collectables – Price : FREE – Publisher – Mobage (Command a crew of renegade soldiers and lead them into explosive combat with strategic precision in The Collectables. In the latest blockbuster from award-winning developer Crytek, you'll wage war in stunning 3D environments and seek to overthrow a ruthless army known only as "The Enemy".) on iPhone & iPad. GET IT NOW FOR FREE

 

Stick Cricket – Price : FREE – Publisher – Stick Sports (Hit out or get out in the world's most popular cricket game, Stick Cricket. Easy to play yet hard to master, Stick Cricket offers you the chance to: WIN THE WORLD T2, 16 teams battle it out in Bangladesh in an exhilarating 2-over tournament tussle.  DOMINATE THE WORLD, From minnows to modern day masters, only a Stick Cricket legend can successfully unlock and conquer all 14 countries en route to World Domination.) on iPhone & iPad. GET IT NOW FOR FREE
For The Bargain Hunters – 99c Games
TriBlaster – Price : $0.99 – Publisher – Bulkypix (Pew pew pew RETRO STYLE!
Shoot enemies, survive, gain lives and achieve the highest scores possible all in an old school vector style game. Control the TriBlaster in an unknown dimension and bring down your foes. The goal is to survive and achieve high scores.) runs on iPad & iPhone. BUY NOW
For The Millionaires – All games over $0.99
 

MasterAbbott's over 99c Pick Of The Week!

Shin Megami Tensei – Price : $6.49  – Publisher – Atlus USA / Index Digital Media (Step away from clear notions of good and evil, right and wrong. There are demons in the world, but whether they are ally or enemy depends on where you stand and what you do. In Tokyo 199X, a mysterious murder leads to the emergence of demons and an escalating global conflict with the rise of a charismatic rebel leader in possession of a demon army, and external forces that wish to crush such threats with extreme measures.) runs on iPhone & iPad. BUY NOW

 

999: The Novel – Price : $4.99  – Publisher – Akysys Games (Zero Escape: Nine Hours, Nine Persons, Nine Doors The Novel (999) is a thrilling choose your own path story from acclaimed writer Kotaro Uchikoshi that takes readers on a suspense-filled journey full of danger, terrifying choices, and unexpected twists toward a variety of endings that may or may not see them coming out alive on the other side.) runs on iPhone & iPad. BUY NOW

 
Braveland – Price : $2.99 – Publisher –

Tortuga Team

 (Braveland is a turn-based game inspired by old-school strategies. You start as a humble warrior's son whose village was cruelly raided by bandits and use your wits and skill to become a commander of your own army. The game story takes place in a carefully drawn colorful world, which the path of your hero will go through.

) runs on iPad.

BUY NOW

 
Dark Guardians – Price : $1.99 – Publisher –

Mathieu Akita

 (From the graphic designer of "LUMI" selected by Apple for the "app of the week", Dark Guardians is the most epic adventure game on the App Store. Between a runner game and a rhythm game, Dark Guardians awakens all your senses. Fight monsters of darkness and travel across fantastic and mystical landscapes.) runs iPad & iPhone. BUY NOW
 

Star Horizon – Price : $4.49  – Publisher – Tabasco Interactive (Note: Star Horizon requires an iPad2/iPhone 4s/iPod Touch 5 or above. Play as John, a private in the service of the Federation. Focus on amusing story and dynamic battles. Journey through the cosmos, upgrade your ship, make important story decisions and have fun fighting those epic bosses!) runs on iPhone & iPad. BUY NOW

 

Goblins – Price : $1.49  – Publisher – Cartoon Network. (Alien globs are brainwashing your friends. It's time to burst their bubbles! Save the world from the inside out in GLOBLINS, a goo-busting PUZZLE GAME like no other!) runs on iPhone & iPad. BUY NOW
There you have it folks these games should keep you busy for quite some time well until next week at least. I'll be back next week for another dose of iOS goodness, in the meantime if you would also like to suggest your own suggestions, please feel free to share them in the comments section below or in the iOS forum section on the site here.
Remember kids, Play Hard Or Don't Play At All!