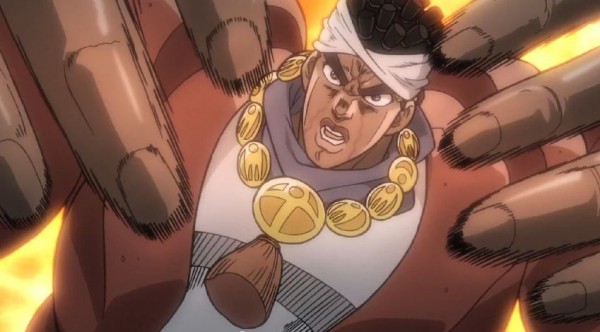 The great people over at "David Production" – a Japanese animation studio  famous for both Parts 1 and 2 of the new "JoJo's Bizarre Adventure" (2012) anime as well as "Soul Eater" and many others – have just released the second piece of footage in their new string of character promos for the upcoming third instalment of the new JJBA anime series "Stardust Crusaders".
The last time we saw a character promo it focused on an older Joseph Joestar, this time around Joseph's old friend and travelling companion Muhammad Avdol takes centre stage in his very own promotional video alongside his stand "Magician Red".The video gives us a nice little look at Avdol's run-in with series villain Dio long before the events shown in the "Stardust Crusaders" storyline as well as also showing us his first encounter with this seasons protagonist Jotaro Kujo.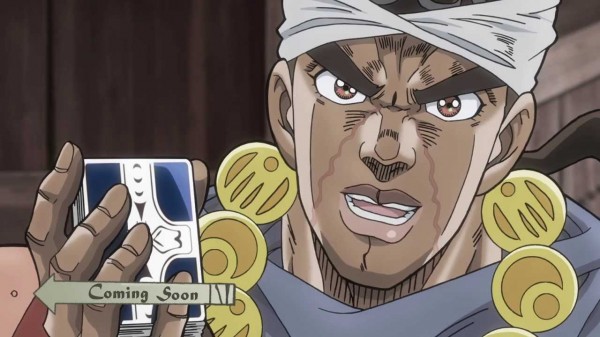 Kenta Miayake, who you may know voiced Scar in the legendary anime series "Fullmetal Alchemist: Brotherhood", will be taking the role as Avdol. Any fan of "FMA: Brotherhood" or Mr. Miayake's other works will know just how fantastic of a voice actor he is and just how lucky the series is for having him on-board.
I'm sure by now until the anime begins to air, we'll be getting more and more of these character promos so stick to the site to make sure you don't miss a beat. You may notice, at the end of the video, it shows that this season will begin its air on the 4th of April this year, that's barely a month away so i think now is the time to start getting pumped for "JoJo's Bizarre Adventure: Stardust Crusaders"!