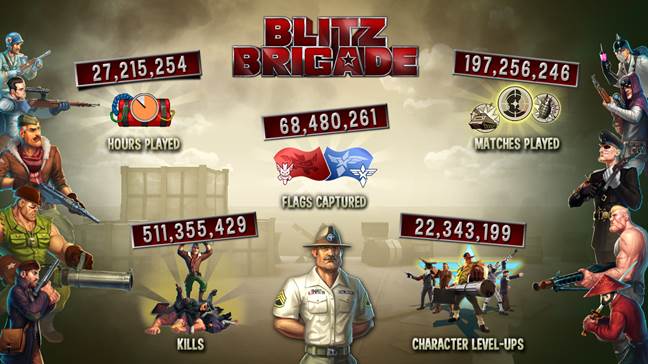 Gameloft often update their content and features but have negelcted their online FPS Android title Blitz Brigade. I guess they felt bad about this so they have now released a major update which should bring joy to players have continually requested the game be updated. To celebrate the release, Gameloft have also released this infographic detailing all the achievements made in the game by its player community. The main improved features within this update include:
New and improved multiplayer modes (Capture the flag and Domination mode).
Characters now have 8 differentiating skills.
A new multiplayer map, the Cathedral (long and close range combat).
New reward based gameplay.
Daily contracts, pick the one you want and complete it to boost your income.
Limited Time tournaments: conquering the leaderboard to harvest rewards.
 20 awesome new weapons, including some Sci-Fi and whacky ones.
Improved overall experience.
Blitz Brigade offers 12 player online FPS battles with class based characters, mutliple modes and over 100 weapons. The game is available for download now on the App Store and the Google Play store.