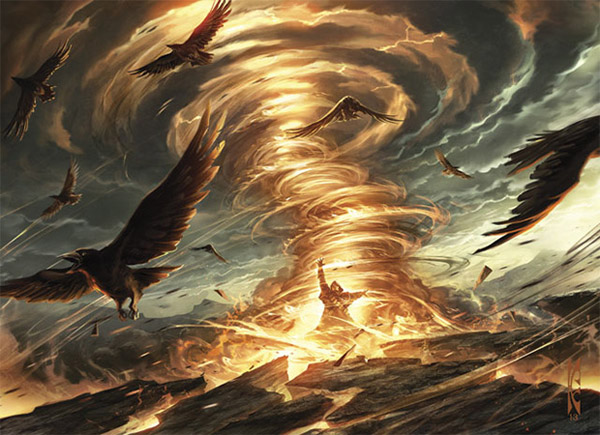 "Beyond Destruction Looms Annihilation."
That is the ominous title of today's news coming straight out of Wizards of the Coast. The world leading card and strategy game designers have officially announced the latest "From The Vault" set for the world-renowned Magic: The Gathering trading card game. The latest set is titled: From the Vault: Annihilation.
From the Vault collections gather together a select number of highly powerful (and highly popular) cards from Magic's storied history, usually with a shared theme and reprint them in a special box set. This time around, the theme is (you guessed it) Annihilation. We as of yet don't know the full contents of the box, but I am going out on a limb here and guessing that "Decree of Annihilation" will feature somewhere.
What we do know is that like most other From the Vault products, Annihilation will contain:
15 Premium foil cards, including 6 with new art.
An exclusive Spindown D20.
A collector's guide.
Each card has been printed using a foil process unique to the From the Vault series.
From the Vault: Annihilation will be available world-wide in English only, and will have an extremely limited print run.
All cards are black bordered and tournament legal. This means that these cards are legal for use in any tournaments where the original printings are still legal.
From the Vault: Annihilation will be released on August 22nd for a RRP of $34.99. However it is important to note that since these are incredibly limited print-runs, the price is sure to skyrocket (the previous From The Vault set jumped up to around the $300 mark at one point).
So what will we see from From The Vault: Annihilation? Lots of board-wipe effects, creatures with the Annihilator ability, or just ridiculously overpowered cards from Magic's history? Let us know your thoughts in the comments below and be sure to check out our coverage from this weekend's Born of the Gods Prerelease. Remember to stay tuned to Capsule Computers for all the Magic: The Gathering news as it becomes available