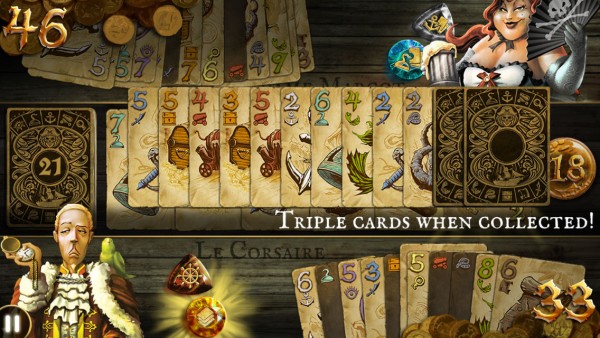 This one goes out to all you card game and puzzle lovers! So listen up lest you be willing to walk the plank! Stardock is extremely excited to announce that its hit iOS game "Dead Man's Draw" (read the review here) has now been released on the PC through Steam. Originally only on iOS devices, "Dead Man's Draw" has players take part in an odd yet traditional-like card game that revolves a great deal around how lucky you are, though…a little smarts does come in handy now and again.The game got some incredible ratings when it first got released through the app store and that allowed the developers to think a bit more about expanding, this is what lead to its release through Steam.

It will be sold for $9.99 but that is not to say its free alternative on the mobile is a better choice considering the PC version will have absolutely NO in-game purchases which is something the mobile version does have. "Dead Man's Draw" on the PC will have everything the iOS version had yet with so much more; all-new card abilities as well as player traits and more than 20 extra tournaments. It's not just gameplay that gets a big change, no, it's also the layout and aesthetics of the game that will make it much more accessible for PC players.
Things like a higher-resolution as well as a PC-friendly interface have been implemented to make it a game that is different from its iOS predecessor yet keeps it more or less the same. Why fix what isn't broken right? If you're interested; we have the trailer for the game below in our featured video section and you can actually purchase the game on Steam by heading to its official page here. It's time to set sail you scurvy dogs!