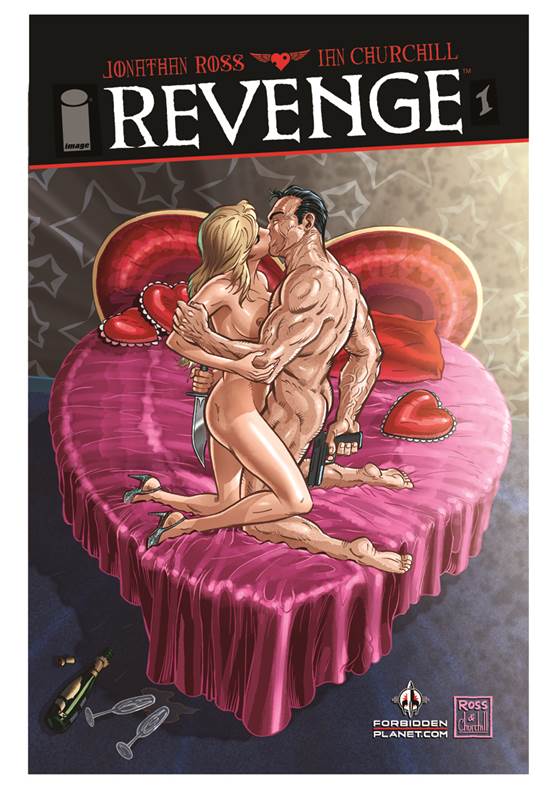 Titan Comics alongside Forbidden Planet (a Titan Comics-owned sci-fi, fantasy and cult entertainment megastore), are extremely excited to announce that they have teamed up with TV Presenter and comic book writer Jonathan Ross to give us, the readers, a special little something that will surely get fans of a particular comic book very excited. Mr Ross has illustrated a special new cover for his comic book series "Revenge", more specifically the first issue of "Revenge". For those of you with no knowledge of the comic, the official synopsis is as follows:
Griffin Franks was a joke in Hollywood. A washed up action-hero. Over the hill. Past it. A has-been. A barely-was. But now he IS The Revenger.

He's a star. His movie's a hit. His latest wife is hot. He finally has everything he wants. Just in time for someone to take it all away. Forever.
The cover looks absolutely brilliant and is a definite purchase for any fans of the series that feel as though they must have this in their collection. The variant cover can only be bought through Forbidden Planet stores or through their online store which you can get to by clicking here. Drawn by Ross himself and inked/coloured by Ian Churchill , this variant comic cover is not one to be missed. You can actually see the image to the right of the article, it looks great to us but we also want to hear what you think of it, head down to our comments section just below to drop us a line.