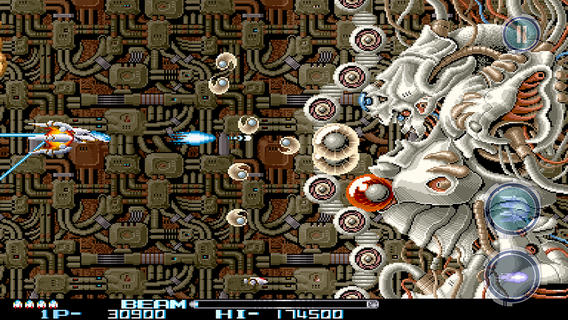 Welcome back for this week's iOS Game Suggestions. If you missed last week's, or are new to the suggestions, click on the link below and check out what cool games you should be picking up for your iOS device along with the introduction on how the suggestions work. (suggestions 1 has how it all works)
MasterAbbott's iOS Game Suggestions
A great week on iTunes! As always, it started slow and but ended with a bang! There are many must-buy games this week in all departments, FREE, 99c and over 99c. This week I've suggested a total of 17 great quality titles. Make sure you check them all especially… Slender Man Origins, R-Type II, Deadman's Cross, Blade Lords, World Of Gibbets, Riot Runners and Jelly Love  just to name a few.
Break down below :
10 – FREE Games
3 – $0.99c Games
4 – Over $0.99c Games
As always for this week's suggestions are all new titles that you should take a look at and consider spending your hard earned iTunes cash / time on.  Well the Free games just below certainly should all be given a shot as they won't cost you anything!
For The Cheapskates – FREE GAMES
 

MASTERABBOTT'S FREE GAME PICK OF THE WEEK!

Deadman's Cross – Price : FREE – Publisher – Square Enix (Deadman's Cross is a zombie-themed collectible card battle RPG, and the latest creation from the same team that brought you the multimillion-download hit Guardian Cross. Sixteen years in the future, the zombie apocalypse is bitter reality as a rampant virus turns all it infects into the walking dead. How will you survive on the streets of New Livingston as Deadmen wander in search of living flesh?) on iPad & iPhone. GET IT NOW FOR FREE

 
Solitaire Blitz: Lost Treasures. – Price : FREE – Publisher –

POPCAP

 (In this nautical solitaire adventure full of treasure hunting and intrigue, you'll uncover rare trinkets and mysterious baubles as you travel to exotic locales and participate in an expansive story full of fun undersea characters. Match cards fast and score big to unlock achievements and top the leaderboard, and then share the wealth with friends. You've never played solitaire like this – it's a fast, fun, social experience!

) runs on iPad & iPhone.

GET IT NOW FOR FREE

 
Battle Quest: Rise Of Heroes – Price : FREE – Publisher –

Mobage

 (PREPARE yourself for an EPIC adventure in the world of Battle Quest! Create, customize and lead your TEAM of heroes into battle! BATTLE as a mighty Warrior, a stealthy Archer and powerful Mage: change characters in-game with a flick of your finger! RUN and BATTLE your way through dangerous landscapes full of obstacles, traps, and enemy attacks.

) runs on iPad & iPhone.

GET IT NOW FOR FREE

 
Word Puttz – Price : FREE – Publisher –

Jackbox Games

 (Build cross words until you reach the cup. It sounds easy but there's a catch. Octoputtz, a spelling-obsessed octopus, owns a chain of mini-golf courses that are loaded with obstacles, challenges and bizarre surprises just waiting to trip you up. Collect stars, crush mollusks and unlock new worlds in this addictive, word-tile adventure game!

) runs on iPad & iPhone.

GET IT NOW FOR FREE

 
Jelly Love – Price : FREE – Publisher –

Chillingo

 (Swipe, swap, and switch using your touchscreen to connect these jiggling jellies and use explosive sour bombs and lightning strikes to score high on the Facebook leaderboards and win trophies!

) runs on iPad & iPhone.

GET IT NOW FOR FREE

 
Blade Lords – Price : FREE – Publisher –

Playsoft

 (Discover Blade Lords, the most STUNNING and visually AMAZING fighting game ever created, and get the most intense, the most fluid and the most immersive game experience you'll ever had with this 100% mobile-exclusive game ! 

) runs on iPad & iPhone.

GET IT NOW FOR FREE

 

WICKED: The Game – Price : FREE – Publisher – 505 Games (WICKED: The Game is the wonderful new puzzle adventure game based on the hit musical WICKED. Journey to the magical Land of Oz and reveal the untold story of the witches before Dorothy drops in – so much happened! Compelling puzzles and a wonderful story combine to make this a hugely enjoyable and entertaining game. ) on iPad & iPhone. GET IT NOW FOR FREE

 
Mr Peabody & Sherman – Price : FREE – Publisher –

Ludia

 (Mr. Peabody & Sherman is a fun and fast-paced trivia game hosted by that loveable genius, Mr. Peabody. The game also features Sherman and his friend, Penny, who will help you answer questions along your journey.  Travel through time in the WABAC machine as you, your friends and your family compete in Challenge Rounds to answer multiple choice trivia questions from current events categories such as movies, music, sports and more!

) runs on iPad & iPhone.

GET IT NOW FOR FREE

 

HonorBound – Price : FREE – Publisher – JuiceBox Games (Lead your army to victory! HonorBound is an epic FREE RPG. Choose your squad as you battle and collect 100's of heroes! Challenge 1000's of players in the Arena! Take control of the battle as your heroes come alive!) on iPhone & iPad. GET IT NOW FOR FREE

 

Agatha Christie: Dead Man's Folly – Price : FREE – Publisher – Hullabu Inc (Agatha Christie: Dead Man's Folly is the iPad version of the wildly successful, multi-award winning PC game series that has been downloaded more than 30 million times. It features plenty of twists, turns, clues and challenges to keep you intrigued and on the edge of your seat for hours on end!) on iPhone & iPad. GET IT NOW FOR FREE
For The Bargain Hunters – 99c Games
 

Riot Runners – Price : $0.99 – Publisher – Room 8 (Evil Enslavers from one point. Brave Robots from the other. Time for the Rebellion has come! So, don't waste any more second! ) runs on iPhone & iPad. BUY NOW

 

Stubies – Price : $0.99 – Publisher – Creatiu Labs (Welcome to the world of Stubies! Now the lives of these adorable characters are in your hands! Try to keep your screen clear before they turn your device into a complete chaos. Push them around and join them by color. But beware! Don't let them fall off the platforms, letting them die is not an option! Unleash the Special Stubies, activate gift boxes, and boost power-ups to master every level through the 4 amazing Worlds of Stubies. ) runs on iPad & iPhone. BUY NOW

 

World Of Gibbets – Price : $0.99 – Publisher – FDG Entertainment (Take a deep breath, focus..then SHOOT!
Oh dang! You missed and just killed a stranger. 'World of Gibbets' invites you to a gruesome place where people are just moments away from..uhm..becoming angels. They hang on gibbets! Take your bow and arrows, shoot the rope and become a hero! Unfortunately, the game designers are evil! They added many traps and vicious tricks to each level so the chances are high that you'll end up in a bloody mess. ) runs on iPhone & iPad. BUY NOW
For The Millionaires – All games over $0.99
 

MasterAbbott's over 99c Pick Of The Week!

R-Type II – Price : $1.99 – Publisher – DotEmu (R-Type II is a horizontal scrolling shooter arcade game developed and published by Irem in 1989. This classic old-school game is the sequel to R-Type and the story takes place two years after. The player controls a ship called the R-9C which is an improved version of its predecessor, the R-9. The Bydo Empire is back! Take it down with power-ups, two new types of weapons, the Search Laser and Shotgun Laser, and a new anti-ground unit bomb.) runs on iPad. BUY NOW

 

Slender Man Origins – Price : $2.99  – Publisher – BIGZUR (Slender Man Origins – Immerse yourself into the thick atmosphere of mystery and horror! Follow the Slender Man's trail, become a witness to his horrific deeds and save the children from their inevitable doom. Explore, listen and look closely, travel through the dark corridors, damp halls, dense forests and empty streets, among the ancient tombs, old looming trees and abandoned houses. But beware! In your journey you will encounter many things without explanation, some even seeking to harm you. Always remember that every step you take may well be your last – for the Slender Man watches you… ) runs on iPhone & iPad. BUY NOW

 
Dr. Panda's Restaurant 2 – Price : $2.99 – Publisher –

TribePlay

 (Dr. Panda's Restaurant is re-opening, and this time all the choices are yours! Make the pizza of your dreams, a pasta dish to rave about, or a soup so spicy your customers will breathe fire! Sweet or salty? Spicy or bitter? It's up to you!) runs iPad & iPhone. BUY NOW
 

Card Wars Adventure Time – Price : $4.49  – Publisher – Cartoon Network (Floop the Pig! It's Adventure Time CARD WARS! Play the game inspired by the Adventure Time episode, "Card Wars"! Summon creatures and cast spells to battle your way to victory. ) runs on iPhone & iPad. BUY NOW
There you have it folks these games should keep you busy for quite some time well until next week at least. I'll be back next week for another dose of iOS goodness, in the meantime if you would also like to suggest your own suggestions, please feel free to share them in the comments section below or in the iOS forum section on the site here.
Remember kids, Play Hard Or Don't Play At All!