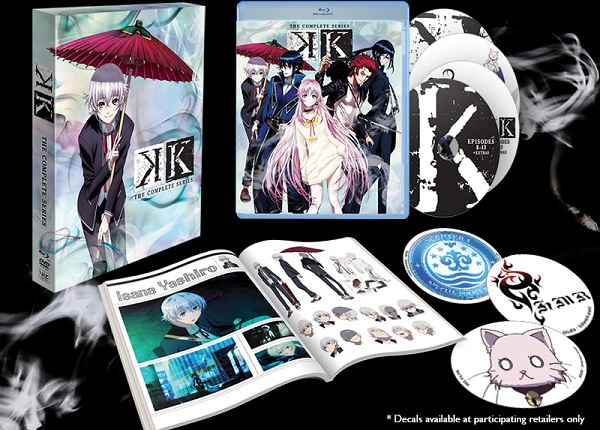 Many anime companies generally separate their Blu-ray and DVD releases still and while Viz Media is still offering that option for their next release K, they are also releasing their first ever Blu-ray/DVD Combo Pack for the series.
K follows the story of Shiro, a relatively easygoing teenager that is happy just being a student, until his life is normal life is turned upside down when a clan attempts to murder him in the streets. You see, they have mistaken him for someone who had murdered a member of their clan and only with the help of a young man named Kuroh Yatogami does he manage to escape this threat, only to find out that he is now a hunted man who must try to prove his innocence before someone takes his life.
The anime will be released next week on February 25th as both a standard DVD version for $44.82 US/CAN and the Limited Edition Blu-ray/DVD combo pack which is priced at $69.99 US/CAN. This Limited Edition version comes with a slew of bonus materials such as a chipboard box that contains a full color eighty page premium art booklet that contains individual episode synopses, character profiles, translated song lyrics, and poster art. As for on-disc extras, it also includes an interview with KANAME☆ during his first ever U.S. guest appearance, a photo gallery featuring KANAME☆, and convention highlights from Anime Expo. It is also worth noting that if you were to purchase the anime from either Robert's Anime Corner or Right Stuf you will also receive some exclusive K stickers.