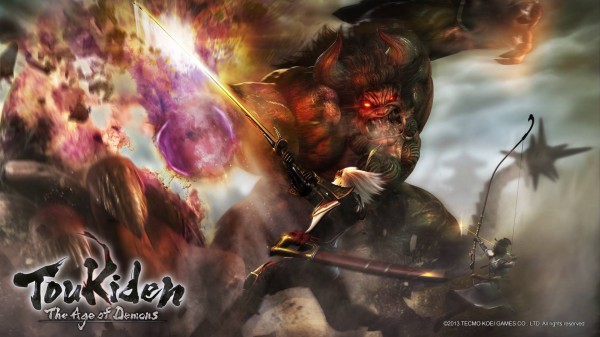 Tecmo Koei has had a long history of releasing numerous action titles ranging from one on one fighting games to one on a thousand brawlers. Many of these titles are developed with the help of Omega Force, the company known for creating the Warrior titles but the latest game from both companies, Toukiden, is a different type of beast than what fans expect. As such, with the game set to be released on February 11th in North America, we had a chance to ask Toukiden's producer, Kenichi Ogasawara-san some questions about the game and he kindly took some time to answer them.
---
Omega Force is predominantly known for their work on the Dynasty Warriors series and other Warriors style games which see the player fighting against hundreds of enemies at one time. Toukiden on the other hand sees players fighting in teams against a few or one large Oni at a time. What led to the decision to focus on small scale battles and large enemies instead of the larger scale of the Warriors title?
Omega Force was originally formed as a team to challenge and create new things.  In Japan, "hunting action" is a major game genre, but it was a genre that Tecmo Koei had never attempted.  For this title Toukiden, Omega Force tackled it with enthusiasm with the aim to create a hunting action game that hunting action game fans would enjoy.  In addition to the fun of defeating gigantic enemies, I think that the action of the "targeted destruction system," the strategic elements of the Mitama system, and the Japanese world setting has made this a very Tecmo Koei-like hunting action game.
Considering the different nature of Toukiden, will fans of the Warriors games still feel at home with Toukiden or has the development team aimed for a completely different experience with this game?
The key characteristic of Toukiden is the action of the "targeted destruction system."  Players can intuitively slay, thrust and crush, and this allows anyone to experience the sensation and exhilaration of destroying an enormous enemy part by part.  The action is different than the Warriors series, but fans should be able to get the hang of it very quickly.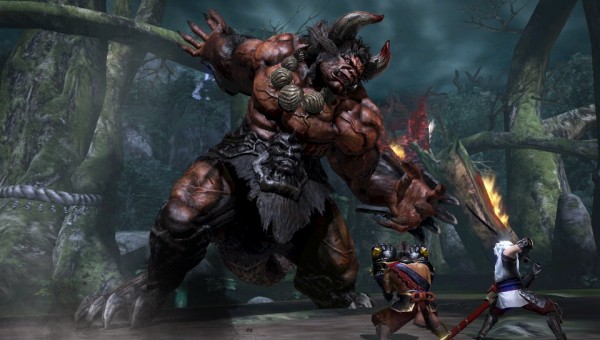 Along those lines, players in Toukiden have the option to fight against the Oni with a few AI controlled allies or partner up with other players to take down these enemies. Why the focus on multiplayer?
The Oni possess massive strength, and usually are very difficult to defeat by a single Slayer.  The Slayers are not multi-talented superheroes.  By putting to use each player's strengths and specialties and working together, it becomes possible to defeat enormous Oni.  Enemies that you think are impossible to defeat are possible to slay by combining forces, and this sense of achievement is the biggest appeal of hunting action games.
Since multiplayer can sometimes be an issue with some titles in North America and Europe, can gamers look forward to a solid single player experience if they choose to stick with AI companions?
The main story mode of Toukiden unfolds in single player mode (playing with AI companions), so it is possible to fully enjoy the story from start to finish without being in a multiplayer environment.  The game continues after the main story is cleared, and much more powerful enemies appear in larger numbers.  The stronger the enemy, the more effective it becomes to topple them in multiplayer.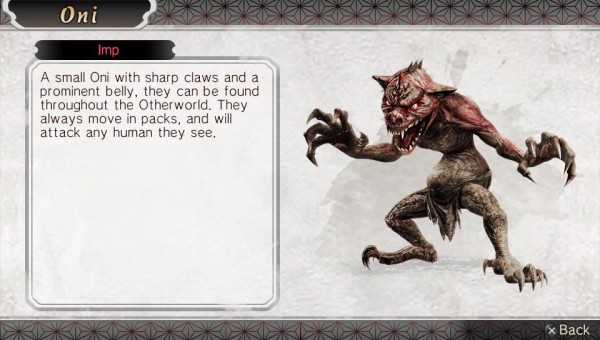 A refreshing aspect of Toukiden is its focus on many fighting many different Oni of various shapes and sizes, all of which appear influenced by Japanese mythology. Why choose these enemies as the threat that players will face?
Since the ancient times, "Oni" are the most famous creatures feared in Japan.  By having the game set in a world based on Japanese themes, it was a natural choice to select Oni as the enemy.  Also, the current form of Oni are imagined as being similar to humans, but this title emphasises the motif of a "fiend" or "demon," so we merged more creature-like elements in our designs.
Players will be able to take on the Oni with six different weapon types. Were these weapons, especially ones such as the Chain & Sickle which has been shown as a weapon for slaying demons in other Japanese media, chosen due to Japanese lore?
The weapon types selected were based on actual weapons historically used in Japan.  In Japan, the most famous weapon for slaying Oni is probably the sword.  There is a legend that when an Oni appeared at a place called "Rashomon" the Oni's arm was sliced off by a sword wielding samurai.  The key art for this game, which uses the image of a Slayer using a sword to slice off the arm of the Chthonian Fiend, uses this legend as a motif.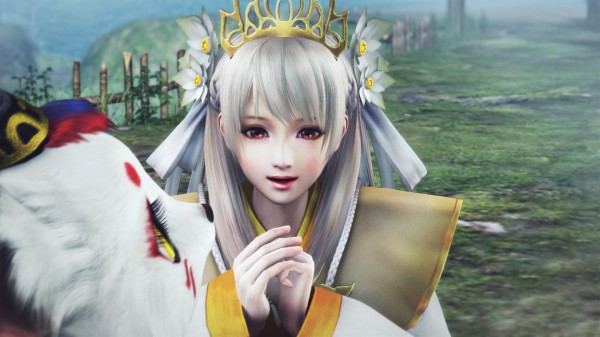 Another customization aspect available for Toukiden players are Mitama that contain the souls of heroes from Japanese history and lore and add varying bonuses to the player's abilities. While there are over 200 Mitama in the game, what qualifications did a notable character need to have to be included in Toukiden?
The main standard we used was selecting well-known characters that the average person growing up in Japan would have heard about in a well-known story, or from history class.  And since have based this game on six historical periods, we made sure that an almost equal number of Mitama represent each period.
We've seen designs and artwork for a number of Oni so far, but was there any Oni that you really enjoyed having put into the game?
The Chthonian Fiend used in the key art is the Oni that represents Toukiden, and I'm quite happy with how it turned out.  We hope that through the beautiful graphics of the PS Vita, players enjoy the intenseness the moment a lively and giant Oni attacks.
Following up on that, was there any Oni that you wanted to have put into the game from Japanese mythology that wasn't added into the title?
Many kinds of demons exist in Japanese folklore, and the ones we included in this game are just a small sampling.  We hope we have a chance to feature even more impressive Oni in the future.
One thing that has continued to impress me about Toukiden is how stunning the game looks on the PS Vita and how certain character art has new life to it compared to past Omega Force titles. Is this something fans can look forward to in the future or is Toukiden a special case?
In this title, we asked the illustrator Hidari to handle character designs, and we incorporated overseas designers' ideas into the Oni designs, so we've tried things that we hadn't done before.  Of course, we have really talented designers internally, but I think that by incorporating some new tastes and designs, we've been able to expand on the visuals in this game.  Moving forward, we hope to continue taking on new challenges.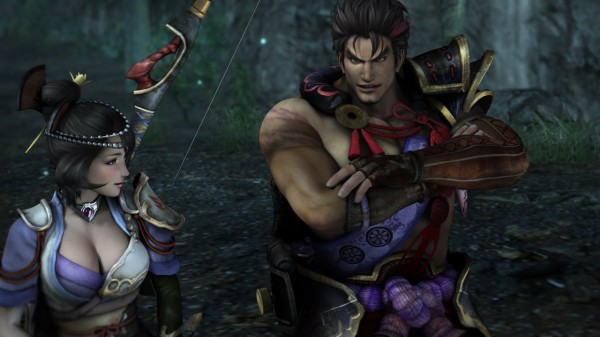 When Toukiden debuted in Japan it sold amazingly well for a new IP, selling over almost half a million copies so far. Do you have any thoughts as to why this Toukiden resonated so well with fans?
It can be said that Toukiden is a game created along with our users.  Very far in advance of the Japanese release, we released an "Action Demo" in Japan.  We received a lot of feedback from users who tried the "Action Demo," and we added improvements to the game based on these responses.  In order to let users know of these improvements, we distributed a patch for the demo – something we have never done before.  And closer to the game's release, we released a second demo where the save data could be carried over to the full version, and as well added many updates post-launch through patches.  Since this is a new IP that grew and took shape from the feedback of users, I think this is why it has been supported by many people.
While in Japan, Toukiden received a few pieces of crossover content with Sony's Soul Sacrifice. Can gamers in the West expect to see this content as well?
It is currently under review.  Please wait for further news.
With the release of the next generation of consoles, an Omega Force title already in the works for one, and the apparent success of Toukiden in Japan, could we possibly see Toukiden appear on these new consoles sometime in the future?
I think it is possible.
---
We would like to say thank you to both Kenichi Ogasawara-san and to Tecmo Koei for giving us the opportunity to ask him these questions. Currently Toukiden is set to be released in North America on February 11th and in Europe on February 14th exclusively for the PlayStation Vita and a demo is currently available for download from the PSN. A number of new screenshots and a gameplay trailer for the game can also be found below.