GAMESTOP TO GIVE AWAY FREE DLC CODES OF JIMI HENDRIX'S "FOXEY LADY" FOR BANDFUSE: ROCK LEGENDS
GameStop Customers Purchasing the Game Will Receive Iconic Guitarist Jimi Hendrix's Explosive Hit
Campbell, CA — February 19, 2014 — Realta Entertainment and GameStop announced a special promotion for GameStop customers who buy BandFuse: Rock Legends, the music video game designed by musicians for people that want to play music. The promotion will run from February 19 to March 28, and features an exclusive code to download Jimi Hendrix's hit "Foxey Lady (Live from the Miami Pop Festival)." The track will be available in the BandFuse: Rock Legends' Music Store while quantities last.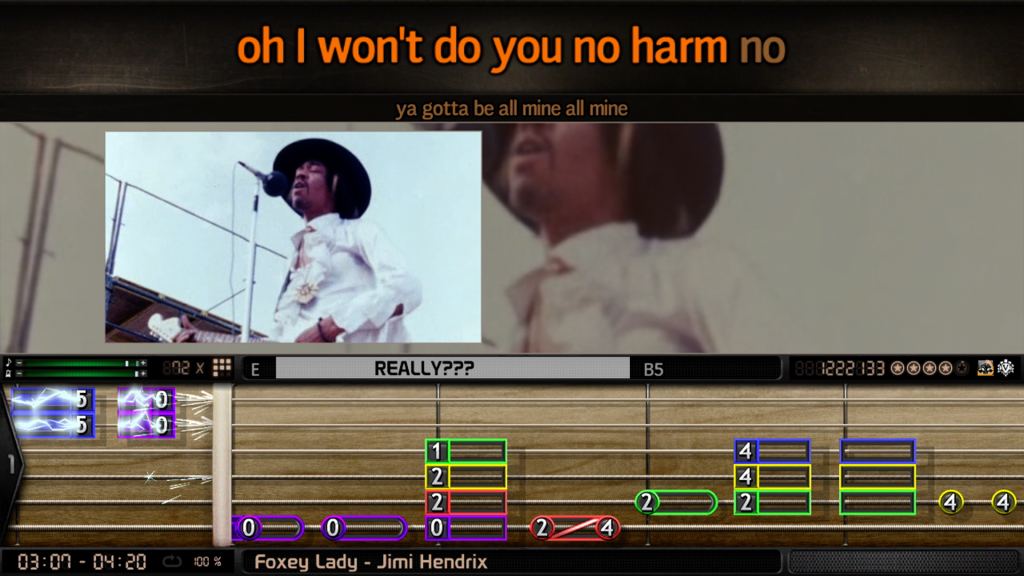 Only on BandFuse: Rock Legends will aspiring musicians receive the unique opportunity to learn to play like Jimi Hendrix. Players who redeem the free DLC code will be able to play "Foxey Lady (Live from the Miami Pop Festival)" on guitar, bass, and vocals, in single-player or as a band. Players have the choice of five difficulty levels including the full lead and rhythm transcriptions and can view specially selected Jimi Hendrix video footage while playing.
"We are pleased to partner with Realta Entertainment to offer both gaming and music fans of all ages this GameStop exclusive," said Marianne Kee, senior merchant for GameStop. "This offer allows Bandfuse: Rock Legends fans a chance to learn and play guitar riffs just like those captured in the live performance of Jimi Hendrix playing his classic hit 'Foxey Lady' at the Miami Pop Festival."
"Foxey Lady (Live from the Miami Pop Festival)" joins the two other Hendrix DLC songs "Fire" and "Love or Confusion" from the album Are You Experienced (1967), as part of 15 signature songs from the legend's catalogue coming to BandFuse: Rock Legends in 2014.
In addition to the Hendrix songs, the BandFuse: Rock Legends Music Store also features epic songs from The Offspring, Incubus, Lynyrd Skynyrd, Boston, Yes, Blues Traveler, Pantera, and Filter. An expanded library of backing tracks for players to create and record original music is also part of the DLC catalogue.  Each downloadable song with music video, multi-instrument support and learning modules is $2.99, and each backing track is $1.99.
Reigniting the music genre with the only true multiplayer experience on console, supporting two guitars, a bass, and vocals, BandFuse: Rock Legends' stellar lineup of acclaimed talent, authentic animated tablature, and lag-free audio unleashes a full band experience for players of all skill levels. Players jam using authentic animated tablature and a fully unlocked library of 55 massive genre-jumping songs ranging from rock to metal and punk to funk.
The platinum cast of in-game legends includes master guitar instructor Slash, Zakk Wylde (Black Label Society), Mike Ness (Social Distortion), Bootsy Collins (Parliament-Funkadelic), George Lynch (Dokken, Lynch Mob), Zoltán Báthory and Jason Hook (Five Finger Death Punch), and Alexi Laiho (Children of Bodom). Later this year, Jimi Hendrix will be integrated into the game as a rock legend, which will include interviews with present day guitar greats talking about his technique and experimental style paired with archival video footage from his illustrious career.
BandFuse: Rock Legends is rated T for Teen by the ESRB and is out now in North America and Japan on Xbox 360 games and entertainment system from Microsoft and PlayStation 3 system, with a European release coming soon. To learn more about BandFuse: Rock Legends, please visit www.bandfuse.com, 'Like' the game on Facebook, follow @BandFuse on Twitter and watch the dev team rock out on Twitch.
# # #