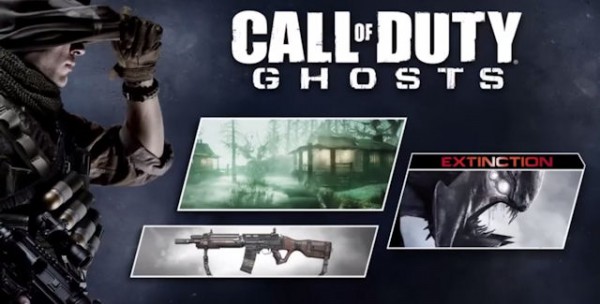 Both "Infinity Ward" and "Activision" are extremely excited to announce that their next "Call Of Duty: Ghosts" DLC pack "Onslaught" has now been made available for the PlayStation 4, PlayStation 3 and PC versions of the game. For those of you who havn't been following the news leading up to this release, the DLC pack contains a massiv eupdate to the game that not only includes four different multiplayer maps but also a brand-new weapon and the first instalment of the four -part episodic narrative "Extinction".
This is one heck of a DLC pack that I can guarantee fans of the game will absolutely love to get their hands on…that's if they already haven't done so.  As mentioned the pack comes with a bunch of addition content like the "Maverick"; a dual-purpose assault rifle that also doubles as a sniper rifle, a perfect weapon for players who prefer to kill from afar but don't mind getting into some mid-range action if forced to. Alongside the new firearm comes four new maps that have been designed in a classic "Call Of Duty" style, another addition to the title that is perfect for both new players and old school followers of the franchise that are up for something a little more…nostalgic. –          Fog: Set alongside the banks of a murky lake, players skilled enough to pick up the map's unique Field Order can become the embodiment of evil and don the mask of Michael Myers, one of cinema's most iconic horror characters, in this chilling homage to classic horror films.

–          BayView: A coastal Californian boardwalk that offers players fast-paced run-and-gun gameplay amid a seaside town. Clever players will be able to climb onto the map's moving trolley to engage enemies, as well as call in devastating artillery strikes from the Naval Destroyer anchored offshore.

–          Containment: This map drops players into a raging battle amidst a war-torn Mexican village, where the action centers on the crippled remains of a small bridge holding a hi-jacked truck leaking radioactive material.

–          Ignition: Is a reimagined version of "Scrapyard" – the fan-favorite multiplayer map from Call of Duty®: Modern Warfare® 2, placing players into a deserted space launch facility with frenetic action amongst abandoned warehouses, flame trenches, a massive transport crawler, and dynamic map elements that can take players out if they're not paying close attention.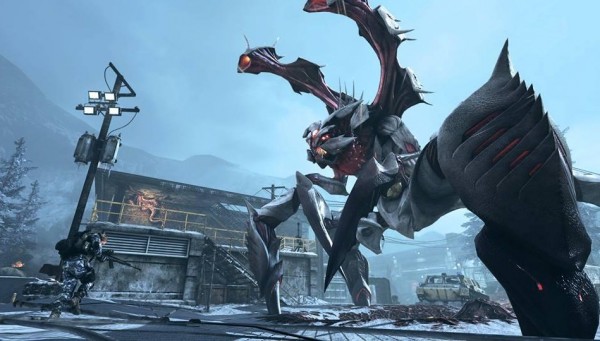 Finishing off the DLC pack is the initial episode in the four part episodic adventure titled "Extinction". The first episode, "Nightfall", takes players into a remote research facility somewhere deep within the wilds of Alaska. You play as part of a small recon team that is tasked with entering the facility to figure out what exactly happened to the mysterious "Nightfall" program. Within the facility you'll come across some freaky enemies as well as two new types of alien creatures to fight against.
As mentioned, this will be the first of four episodes that will be released throughout the year, it's definitely a side story that should not be missed especially if you're a fan of sci-fi. The "Onslaught" DLC pack is out now and is priced at a fair $19.95 as a standalone purchase or it can also be bought as part of the "Call Of Duty: Ghosts – DLC Season Pass" which is going for $64.95. That season pass, once bought, contains this DLC pack as well as the next three that have already been planned for a release (though obviously you'll be eligible to get them once they ARE released). Head on to your PC, PlayStation 4 or PlayStation 3 now to grab the "Onslaught" DLC pack. You wont want to let this one pass you by.