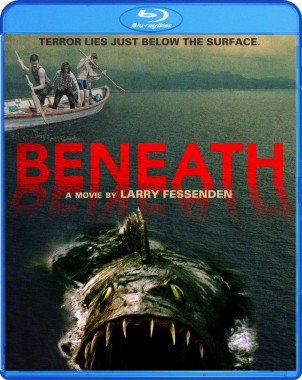 Ready to go swimming? Well, you're in luck as Scream Factory are releasing Beneath on Blu-ray and DVD on March 25th. Brought to you by director Larry Fessenden, this creature feature is the story of survival, with some high school grads trying to simply stay alive against a massive, watery foe. Think of it as a modern day Jaws, if you will.
Here are some of the first details:
After their high school graduation, six teens celebrate with a trip to the remote and mysterious Black Lake. Only Johnny seems to suspect there's something in the water stalking the revelers as they set out in their small wooden rowboat stocked with beer and fireworks. But why would Johnny let them go swimming if he knew what lurked beneath? A sudden attack from the depths followed by a lethal chain of events leave the teens stranded on the leaking vessel in the middle of the lake with no oars, no way back to shore, held hostage by a menace that circles them persistently. And so the teens turn on each other, and the petty high school grievances they almost left behind prove more deadly than the monster that waits to devour them.

Chiller Films presents a Glass Eye Pix production in association with OffHollywood Pictures. BENEATH is written by Tony Daniel and Brian D. Smith, and directed by horror icon Larry Fessenden (The Last Winter, Habit). Produced by Fessenden and Peter Phok for Glass Eye Pix (Stake Land, The Innkeepers, I Sell The Dead).

BENEATH Blu-ray and DVD Special Features:

· Commentary with director Larry Fessenden and sound designer Graham Reznick
· Theatrical Trailer
· Behind BENEATH
· Outtakes
· Poster/Premiere
· Webisodes:
What the Zeke?
What's in Black Lake?
· Fessenden on JAWS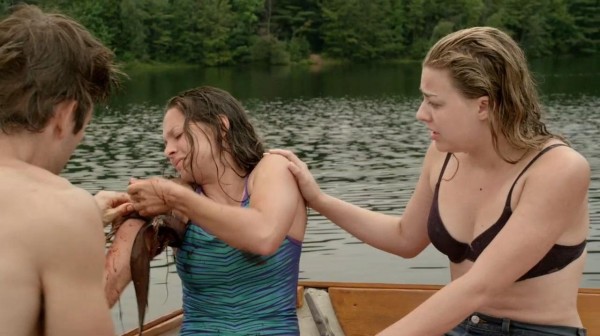 You can place your pre-order for Beneath now at Shout Factory's official website, or do the same at Amazon by clicking here. I for one am for a new creature feature, and Beneath has the cast and talent behind it to be something truly special.