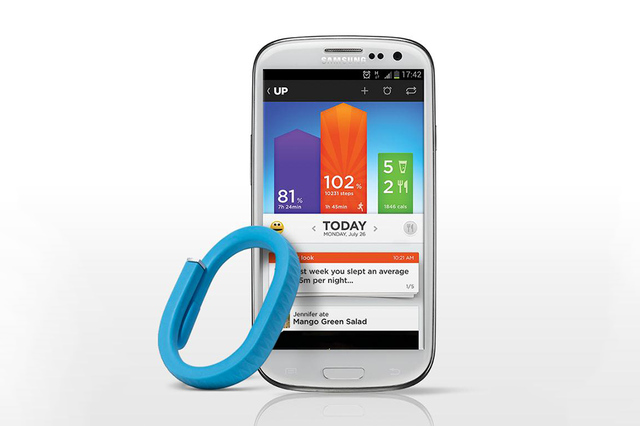 Global leader and innovator in smart audio and wearable techonology Jawbone have announced a collaboration with the World Economic Forum that will see UP band wristband techonology and the accompanying app utilised to raise awareness of smart behaviours around health including exercise, sleep and diet.
Jawbone is supporting delegates of the 44th Annual Meeting taking place in Davos-Klosters, Switzerland by providing this helpful tech that will monitor thier activities all as apart of the Davos Health Challenge that is all about people moving towards better health.  The meeting will have a large focus on health challenges and Jawbone and The Forum are working together to inspire participants from more than 100 countries and highlight technology's crucial role in helping to achieve and maintain a healthy lifestyle.
Travis Bogard, vice president of product management and strategy at Jawbone had this to say:
"Jawbone's aim is to give people everywhere a tool to lead healthier lifestyles and achieve their goals, and we're thrilled that the World Economic Forum is putting such focus on the big health challenges facing the world," said  "We're proud that The Forum will be using UP as a tool to help people learn about themselves, and ultimately, live better."
Eva Jané-Llopis, Director of Health Programmes at the World Economic Forum also had some encouraging words to say:
"Health is a cornerstone of the Annual Meeting 2014, and the Davos Health Challenge encourages its 2,500 participants towards making healthy choices for food, drink and physical activity. We are delighted that Jawbone, a Global Growth Company Partner of the Forum, is supporting our efforts with the latest wearable health empowerment technologies so the Davos Health Challenge can inspire people to change behavior towards a healthier lifestyle."
Equipment that encourages healthier life styles such as Nintendo's Wii Fit board has shown that these products can be a success and that users can find the results they are looking for if they put in the effort. It is great to see this trend continuing with more practical examples such as the UP bands and it will be exciting to see what else Jawbone can come up with in the future to help better understand peoples behaviours and improve their wellbeing. For more information on the UP band by Jawbone please check out their official website.