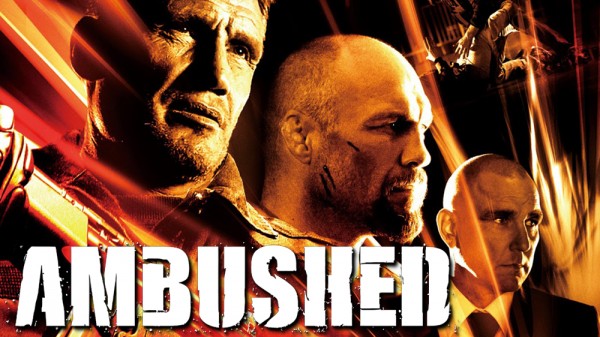 This little piece of news goes out to those of you who happen to love some serious old-school action and the stars that made them great. Transmission Films have just announced that their brand-new action movie "Ambushed" – starring Dolph Lundgren (Rocky IV, Masters Of The Universe), Vinnie Jones (Snatch, Lock Stock and Two Smoking Barrels), Randy Couture (The Expendables) and directed by Giorgio Serafini (Johnny's Gone) – will be getting a home video release on the 8th of January this year.
For those of you who have no idea what this action flick is about, the Official Transmission Films Synopsis is as follows:
Frank (Daniel Bonjour) and Eddie (Gianni Capaldi) are two club-level drug dealers in LA who like to think they're big time. The problem is, the big time isn't exactly knocking on their door. Desperate to increase their business they rip off their middleman in a murderous bid for greatness, setting off a dangerous chain of events involving a ruthless crime boss, a dirty cop and the federal agent, who is chasing them all.

With their lives on the line, Frank and Eddie manage to convince crime boss Vincent Camastra (Vinnie Jones) that they are the next best thing for his wide-ranging criminal enterprise but they quickly run afoul of Jack Reiley (Randy Couture), the dirty cop that wants in on the new action.
As mentioned above; "Ambushed" is set for a release on the 8th of January 2014 (this year) and is absolutely perfect for people who love macho action flicks that get the heart pumping and get the blood boiling. The movie will be released on both DVD and Blu-Ray with the Blu-Ray containing a digital copy of the movie, the DVD version will be sold for $29.99 and the Blu-Ray version will be sold for $34.99, both will be sold at any and all good film retailers. Get ready for the action-packed, crime drama "Ambushed" because it'll be hitting shelves soon!