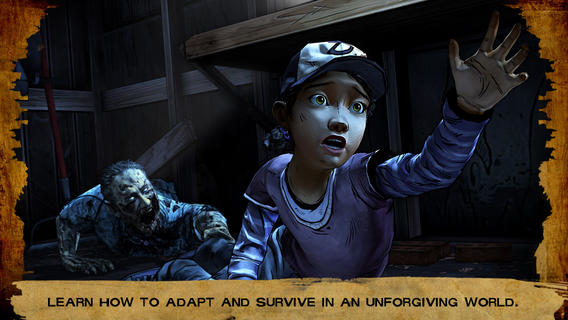 Welcome back for this week's iOS Game Suggestions. If you missed last week's, or are new to the suggestions, click on the link below and check out what cool games you should be picking up for your iOS device along with the introduction on how the suggestions work. (suggestions 1 has how it all works)
MasterAbbott's iOS Game Suggestions
A great week on iTunes! As always, it started slow and but ended with a bang! There are many must-buy games this week in all departments, FREE, 99c and over 99c. This week I've suggested a total of 24 great quality titles. Make sure you check them all especially… Fightback, Cut The Rope 2, The Walking Dead Season 2(Ep1), Kingdom Tales, Colossatron, Republique, Ridge Racer Slipstream just to name a few.
Break down below :
10 – FREE Games
4 – $0.99c Games
10 – Over $0.99c Games
As always for this week's suggestions are all new titles that you should take a look at and consider spending your hard earned iTunes cash / time on.  Well the Free games just below certainly should all be given a shot as they won't cost you anything!
For The Cheapskates – FREE GAMES
 

MASTERABBOTT'S FREE GAME PICK OF THE WEEK!

Fightback – Price : FREE – Publisher – Chillingo (When there is no justice, there can only be vengeance! Thugs have kidnapped your sister but they've picked on the wrong guy. It's time to Fightback! From the award-winning developer Ninja Theory comes a new standard in mobile fighters. Stunning visuals, unique controls, and a vibrant design come together to bring you the pinnacle of mobile fighting games. ) on iPad & iPhone. GET IT NOW FOR FREE

 
Heroes Of Steel RPG – Price : FREE – Publisher –

Trese Brothers

 (Command a party of four heroes with diverse skills, abilities and equipment as they strive to protect humanity in a time of warring gods and dark powers. Lead your group on an adventure through a sprawling story set in a post-apocalyptic medieval realm.

) runs on iPad & iPhone.

GET IT NOW FOR FREE

 
Jewel Galaxy – Price : FREE – Publisher –

Bulkypix

 (As a Space Miner, you have to gather all the jewels in the universe. Rubis, sapphires, emeralds, topazes, match three similar ones or more to make combos and collect gems. While digging planets, you will be able to travel in space and discover wonderful constellations.

) runs on iPad & iPhone.

GET IT NOW FOR FREE

 
Pet Zoometery – Price : FREE – Publisher –

G5 Games

 (Get ready to build the strangest and most entertaining zoo of all time!  With the help of a chatty rhinoceros, acquire the coolest Zoombies, construct surreal attractions and even design a lake to house aquatic Zoombies.  Then get things up and running by hiring employees, establishing your Zoombie feeding rituals and earning Zomboleons for inviting visitors to your wacky wonderland. What's Phase II?  

) runs on iPad & iPhone.

GET IT NOW FOR FREE

 
Band Land – Price : FREE – Publisher –

Undercoders

 (Find it out in the most comprehensive music bands trivia game in the app store! Write the name of the pictured band to clear a level. Do it as fast as you can and earn high scores and earn Band land coins! Stuck in a band you can't name? Use the coins to get valuable hints or ask your friends to aid you via Twitter or Facebook.

) runs on iPad & iPhone.

GET IT NOW FOR FREE

 

Disney Hidden Worlds – Price : FREE – Publisher – Disney (Find Hidden Objects in scenes from your favorite Disney movies! Journey to a world of imagination and recreate the story worlds of Beauty and the Beast, Tangled, Aladdin, The Little Mermaid and more classic Disney films. Meet Chrona and the Inklings, brand new Disney characters who will help you keep your Disney Kingdoms safe from a mysterious new villain and let you see your favorite Disney films in a whole new way!) on iPad & iPhone. GET IT NOW FOR FREE

 
FRS Ski Cross – Price : FREE – Publisher –

Unity Games

 (Prove you're the fastest skier on the mountain in this stunning downhill skiing game! Beat your friend's best times across 50 high speed downhill tracks.

) runs on iPad & iPhone.

GET IT NOW FOR FREE

 

X Mutant Puzzle – Price : FREE – Publisher – Alexandre Minard –(Mutants are all around the world. You and your team must track down these monsters and destroy them. You will fight in Osaka in Japan, but also in Hanoï, Mexico… You'll discover more than 50 destinations on Earth. To eliminate all the mutants, you will choose your leader, your faction and then build your team. For that, you will unlock new mutants to recruit them, thus your team power will raise.) on iPhone & iPad. GET IT NOW FOR FREE

 

Pet Detective – Price : FREE – Publisher – Six Waves (Your cute pet becomes a detective! Let's help the cute pet to find the clue to arrest the bad guys and bring peace back to the city! Are you up for the challenge? Play now! Play hundreds of fun and interesting stages to find the items and solve the puzzle! It's easy and addictive! ) on iPhone & iPad. GET IT NOW FOR FREE

 

Snoopy's Candy Town – Price : FREE – Publisher – Beeline Interactive (Welcome to Snoopy's Candy Town! Snoopy's dad has left him a Candy Factory and it's your job to help him run the show. The problem is, you could fit everything our favourite beagle knows about candy onto a gum drop! Help Snoopy, Belle, and Woodstock set up shop and start making the most delicious candy the world has ever known! ) on iPhone & iPad. GET IT NOW FOR FREE
For The Bargain Hunters – 99c Games
 

MASTERABBOTT's 99c PICK OF THE WEEK!

Cut The Rope 2 – Price : $0.99 – Publisher – Zeptolab (SWEET! Cut the Rope 2 has arrived! With new characters, fresh gameplay elements, tricky missions, and, of course, Om Nom, candy collecting has never been so fun!  In his unexpected adventure, Om Nom breaks out of his box and travels through lush forests, busy cities, junkyards and underground tunnels, all in pursuit of one goal – CANDY! Along the way, he encounters the Nommies, the cutest candy collecting helpers a little green monster could wish for! ) runs on iPhone & iPad. BUY NOW

Colossatron: Massive World Threat – Price : $0.99 – Publisher – Halfbrick Studios (Colossatron: Massive World Threat is the story of the biggest and most powerful being to ever wage war against mankind. But this time – YOU get to be the bad guy! Take control of a giant robotic snake and smash through cities with ease as you fight to create the most fearsome weapon of all time. Your objective is simple: DESTROY EVERYTHING!) runs on iPhone & iPad. BUY NOW

 

Rube Works: The Official Rube Goldberg Intention Game – Price : $0.99 – Publisher – Unity Games (The first and only official Rube Goldberg puzzle game. Solve everyday problems in Rube's trademark elaborate style by creating complex and hilarious machines. Is pouring a glass of juice just too straightforward and boring? Try using a jack-in-the-box, magnifying glass, string and a cymbal-wielding friend to achieve your goal. The more creative your solution the better!) runs on iPad & iPhone. BUY NOW

 

Atomic+ – Price : $0.99 – Publisher – Ahmed Khalifa (Atomic+ is a simple, fast-paced action game where you avoid bullets and survive for the longest time while collecting squares to achieve the highest score. The game features three different control modes (auto, manual, control) with two different difficulties (normal, hardcore).) runs on iPhone & iPad. BUY NOW
For The Millionaires – All games over $0.99
 

MasterAbbott's over 99c Pick Of The Week!

Walking Dead: The Game – Season 2 – Price : $5.49 – Publisher – Telltale Games (The sequel to 2012's Game of the Year continues the story of Clementine, a young girl orphaned by the undead apocalypse. Left to fend for herself, she has been forced to learn how to survive in an unforgiving world. But what can an ordinary child do to stay alive when the living can be just as bad – and sometimes worse – than the dead?) runs on iPad. BUY NOW

 
The Shadow Sun – Price : $8.49 – Publisher –

Ossian Studios

 (The groundbreaking Western RPG iOS gamers have been waiting for! Created by the developer of Neverwinter Nights 2: Mysteries of Westgate and the former BioWare producer of Baldur's Gate 2: Throne of Bhaal. With The Shadow Sun, Ossian Studios brings together all its expertise from working with Dungeons & Dragons and The Witcher in order to create a deep, story-driven RPG experience for iOS. Prepare yourself for visceral real-time combat, a gorgeously detailed world to adventure in, complex characters to interact with, and an epic tale of an ancient city held within the grip of a mysterious plague.

) runs on iPhone & iPad.

BUY NOW

 

Ridge Racer Slipstream – Price : $2.99  – Publisher – NAMCO (The ultimate arcade racing franchise brings the console experience to your iOS device! Slipstream past your rivals and drift around tight turns at over 150 MPH!) runs on iPhone & iPad. BUY NOW

 

Republique – Price : $6.49  – Publisher – Camoflaj (Intense, thrilling, and topical, RÉPUBLIQUE is a stealth-action game that explores the perils of government surveillance in the Internet Age. You receive a desperate call from Hope, a mysterious woman trapped inside an oppressive totalitarian state. By hacking into the nation's elaborate surveillance network and taking control, you guide Hope through a web of danger and deception across five thrilling episodes. (Purchase future episodes with the discounted Season Pass.)) runs on iPhone & iPad. BUY NOW

 
Abducted – Price : $2.99 – Publisher –

Sunside Inc

 (Abducted is a new episodic adventure horror game from Sunside Inc. for the iPhone and iPad. Abducted by aliens and taken thousands of light years from home, you have one ultimate goal: Escape. But you have so many unanswered questions… How did you get here? What is this place? Who took you and why? Uncover the deep and complex mystery surrounding your origin as you explore breathtaking alien environments rendered with dynamic lighting, shadows, and volumetric fog with the next generation of Sunside's in-house game platform Radiance™.

) runs on iPad.

BUY NOW

Hidden Files: Echoes Of JFK – Price : $4.99 – Publisher –

Microids

 (Shed some light on the murky circumstances behind the death of journalist Jack Olsen, who was investigating the assassination of the most famous US president from the last 55 years. After meeting with the American president, FBI Director Edward Castle needs your help for this TOP SECRET assignment. You'll take on the role of Special Agent Jane Sully, and your investigative talents and attention to detail will be your most valuable weapons in this high-risk investigation.) runs iPad & iPhone. BUY NOW
 

Kingdom Tales – Price : $2.99  – Publisher – Cateia Games (The day has come when mighty dragons seek new territory to claim as their own! Now, only the most courageous and just of leaders will be able forge a friendship between mankind and dragons.
Step into the role of the steadfast and altruistic leader whose quest is to ensure the safety and prosperity of all people and creatures in the kingdom! In Kingdom Tales you will explore the land, gather, produce and trade resources, build and repair subjects' homes and community structures, and work to increase your subjects' level of happiness! ) runs on iPhone & iPad. BUY NOW

 

Fast Fin – Price : $1.99  – Publisher – NuroGames. (Join the small speedy clown fish Fin on his odyssey through the depths of the Atlantic! The large and diverse underwater world offers you this fast-paced action, lots of challenges and lots of fun. Barely hatched protagonist Fin has already got a lot of troubles: A tsunami destroyed his home, an idyllic coral reef. The remaining eggs, which are his unhatched siblings, were scattered all over the ocean. To all misfortune, toxic chemicals are leaking from an old submarine wreck. It pollutes vast areas of the ocean over time. Now, every second counts!) runs on iPhone & iPad. BUY NOW

 

The Cube – Price : $1.99  – Publisher – All3Media. (Do you have what it takes to beat the Cube? To find out, test your skills in this easy to pick up – hard to put down – recreation of the smash hit TV show. Featuring 21 popular challenges presented in a fully 3D environment, you too can feel what it's like inside the Cube. ) runs on iPhone & iPad. BUY NOW

 
Movie Cat 2 – The Movie Trivia Game Sequel! – Price : $1.99 – Publisher –

Owerwise Games

 (The sequel to MovieCat is finally here! Bigger and better than ever, MovieCat 2 features over 1,000 all-new text and visual puzzles about all of your favorite and least-favorite movies! In addition to the puzzles from MovieCat 1 (Double Feature, Screening Room, Dressing Room, Cat Chat, etc.), we have added several new puzzles, like Prop Art, Rhyme Time, Classics, and Details, Details.) runs iPad & iPhone. BUY NOW
There you have it folks these games should keep you busy for quite some time well until next week at least. I'll be back next week for another dose of iOS goodness, in the meantime if you would also like to suggest your own suggestions, please feel free to share them in the comments section below or in the iOS forum section on the site here.
Remember kids, Play Hard Or Don't Play At All!