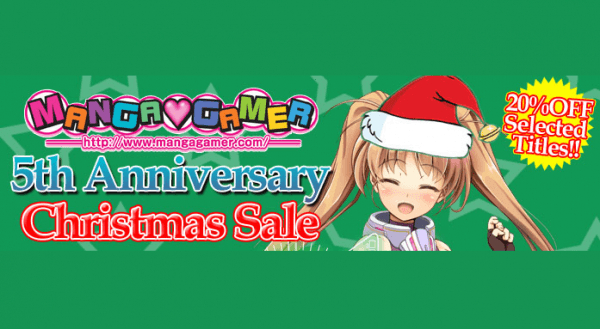 MangaGamer have just announced that they are now running Christmas Sale on their website for several of their greatest releases. That's right MangaGamer fanatics, some of the best titles in the impressive library of games from MangaGamer are now discounted for Christmas as part of this Christmas Sale.
The following titles have been announced as part of the sale:
All-Ages Titles:
Go Go Nippon
Higurashi When They Cry
Higurashi When They Cry Kai
World End Economic Episode 1
Adult Titles:
Boob Wars: Big Breasts vs Flat Chests
Conquering the Queen
Da Capo
Da Capo 2
DEARDROPS
Demon Master Chris
Dengeki Stryker
Edelweiss
Edelweiss Eiden Fantasia
Edelweiss Bundle Pack
ef -the first tale.
EROGE! ~Sex and Games Makes Sexy Games~
Harem Party
Harukoi Otome "Greetings from the Maidens' Garden"
Kara no Shojo
Koihime Musou ~A Heart-Trobbing, Maidenly Romance of the Three Kingdoms~
Otoboku: Maidens Are Falling For Me
SHUFFLE!
Suika A.S.+
Tick! Tack!
We Love Master!
MangaGamer of course specialize in Visual Novel PC games, many of which are now on sale. You can check out this sale on their website now here. Be sure to let us know what you think of this sale in the comments section below.