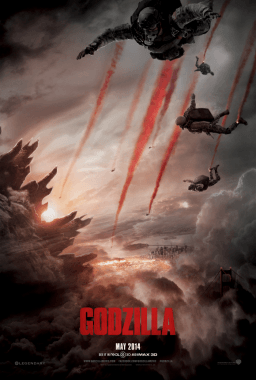 After months of hype, the Godzilla teaser trailer has emerged! I think it's a safe bet that this 'Legendary' Kaiju will also chew up fellow Warner Bros. film Pacific Rim's box-office numbers and spit them out.
You can view the much anticipated teaser trailer embedded at the bottom of this article. Also provided is a brand new poster visible to the right, which depicts a visually stunning sequence involving military troops HALO jumping into the disaster zone.
Lucky attendees at Comic-Con this year saw some early footage from the film that reportedly included a second, scorpion-like Kaiju. It's no surprise as director Gareth Edwards (Monsters) has expressed his fantasy of a world existing where we lived amongst multiple creatures of gargantuan proportions.
The viral marketing website for the film, www.mutoresearch.net, has been updated with the teaser trailer, but there are surely many more secrets to be discovered there. Click through to visit it and try your hand at unlocking them with the rest of the community.