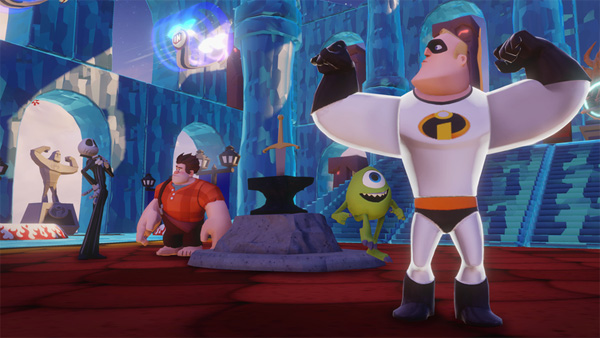 Disney Infinity launched this August and immediately exploded with popularity. The game that everyone thought would end up being "Skylanders, but with Disney characters" exceeded everybody's expectations and really did deliver on its promise to recreate the experience and wonder of a child at play. One thing that has been a sour point for many older Disney fans however, has been that none of the classic characters from Disney's past have been included – Even Mickey himself wasn't included in the launch line-up of figures.
It is easy to see why Disney went down this road, focusing on the newer and more popular characters allows it to appeal to the younger demographic and sell units, Kids recognise Rapunzel and Mike Wazowski more than Aurora and Aladdin. However, Disney's choice to focus on the here and now of their brand makes a particular franchise inclusion quite confusing: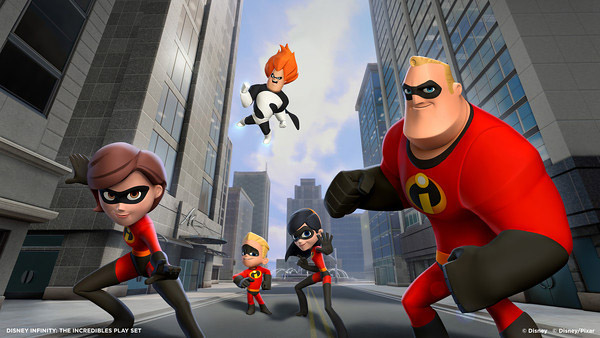 The Incredibles is a film that came out in 2004, so many of the gamers in the target audience for Disney Infinity weren't even born when it graced the silver screen. Sure, Disney Infinity features some older franchises too, like Toy Story, Cars, Monsters Inc. and Pirates of the Caribbean but each of those franchises has had a new movie in the last few years – so why do The Incredibles get to be part of the illustrious cast of collectibles for Disney Infinity?
Not only are The Incredibles included in the game, but they get a lot of the game's spotlight, with Mr. Incredible himself not only being included as a starter-pack figure, but also being used as one of the main mascots for the game. Mr. Incredible appears in just about every media piece for Disney Infinity there is. He also appears as the initial selectable character on the iPad version of Disney Infinity: Toy Box, and also in the side-game; Disney Infinity in Action. he is everywhere when it comes to this game.
The Incredibles are also the most well-represented franchise in the entire game. Their collection contains all four main members of the family (excluding Jack-Jack), and Syndrome for a total of five playable figures. Only one other set comes close to matching that number, and that is Cars with 4 figures (and if we are honest, Cars has been a massive merchandise seller since the first movie premiered in 2006), with the rest of the sets averaging 2-3 toys.
So sure, while there is no indication here that Disney are playing favorites with their super powered family, the most interesting part of their inclusion comes from the fact that all of the playable characters keep their voice actors/actresses from the original movie. While some characters do keep their original VAs, many don't. It is cool to see the whole Incredibles gang back together, but it still begs the question of – why?
It could very well be that Disney are testing the waters with The Incredibles franchise in preparation for future projects. The Incredibles was insanely popular in 2004, bringing in over $600,000,000 in box office revenue globally, making it one of Pixar's most successful films. So while there is no argument that it was popular then, 2004 was almost 10 years ago, so The House of Mouse might be seeing if there is still fan interest. Well Disney, considering how quickly the Incredibles figures flew off the shelves here when the game launched (especially Dash), I dare say you have your answer.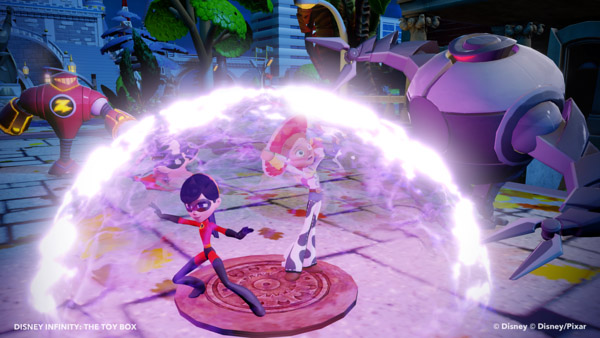 This is of course all speculation, especially since we know that Pixar is busy with other projects for the next few years, but it is still fun to wonder what the future will bring. Disney clearly put a lot of care and thought into the inclusion of Bob Parr and his family, and since the WORLD has been absolutely begging for an Incredibles 2 since the credits rolled almost 10 years ago, now might be the time?
What do you think, are Disney seeing if The Incredibles are still viable, or are they just teasing us with what could be? Let us know your thoughts in the comments below, and always remember to stay tuned to Capsule Computers for all the Disney Infinity news as it becomes available.