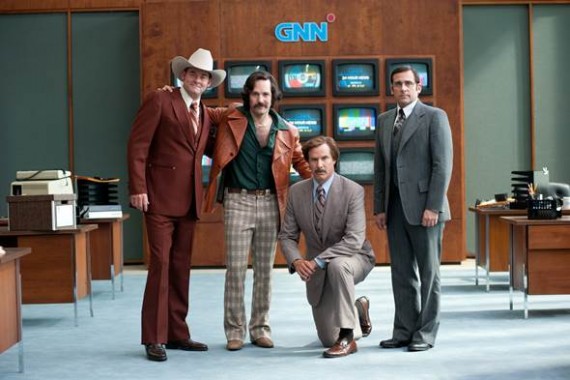 "Oh my God!… He's absolutely magnificent!" Looks like Ron Burgundy has a man crush! Paramount Pictures have released a new Anchorman 2: The Legend Continues clip, and in it, the mustachioed one has a rather embarrassing face to face with another anchor.
He, along with Brick (Steve Carell), Brian (Paul Rudd) and Champ (David Koechner) are introduced to their fellow GNN news teams when Ron locks eyes with the best in the biz, Jack Lime (James Marsden), who proceeds to make a mockery of Ron and his voice, leading him to ask "Is that what I sound like?!". Didn't help that his "friends" joined in on the teasing. Watch the clip embedded below, and check out the just recently unveiled 2nd batch of character posters.
Anchorman 2: The Legend Continues comes out December 19 nationwide.