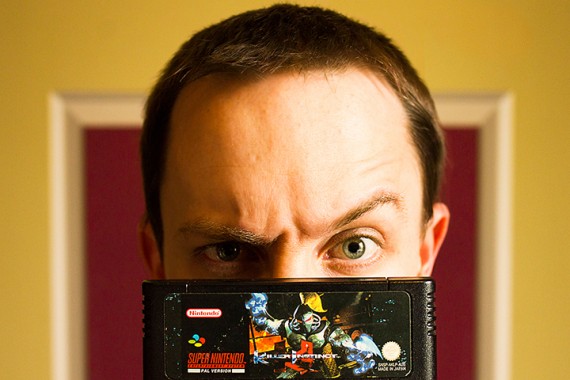 UUULLTRRAAAAAAAAA COOOOOOMMBBBOOOOOO! Yes, I've used that half to death… actually most would argue I've bludgeoned it to a pulp. But this has been 17 years in the making! Killer Instinct is finally only a week away from release, and today I got to interview the extremely generous and talented fellow Aussie, Mick Gordon, composer for not only the Xbox One fighter, but the next Wolfenstein: The New Order and a fantastic-looking horror-exploration title called Routine, developed by indie team Lunar Software. After his stellar PAX Australia panel, we just had to talk to him further.
It's a long interview at over 90 minutes, as we covered the musical design and production processes behind all three games' soundtracks and scores, although we notably go in-depth on every revealed Killer Instinct character's theme. We also touch upon the possibility of a new Killer Cuts album release, how Mick failed miserably at his first attempt to impress Double Helix and more. For those of you who want to specifically hear the Wolfenstein: The New Order part, jump ahead to around the 74 min 37 second mark. For those particularly interested in Routine, skip to the 83 min 30 second mark. Just hit play below and enjoy.
Audio Interview with Mick Gordon, Composer of Killer Instinct and Wolfenstein: The New Order
• SUBSCRIBE: iTunes Podcast Channel | Podcast RSS Feed
• DOWNLOAD: MP3 (right click/save as)
Be sure to listen to our past CC Unplugged episodes here.
Be sure to follow Mick at @Mick_Gordon on Twitter, on Facebook and on Soundcloud (you'll definitely want to do that), subscribe to his YouTube account and visit his website for his credits, show-reels and other fun stuff. Killer Instinct will be available at launch for the Xbox One on November 22. Wolfenstein: The New Order and Routine are slated for release in 2014.
P.S. Microsoft, all jokes aside, we know the leak for the final Season 1 character wasn't your fault… anyone have a penny? This arcade machine just ate my money.