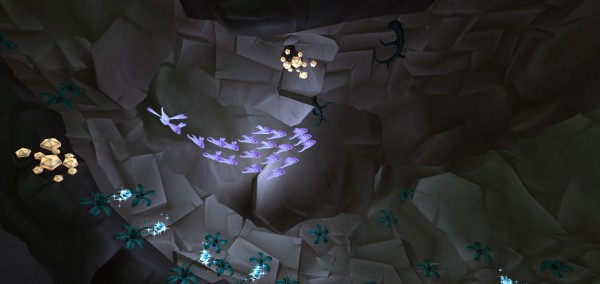 'Lumini' is a new game coming to PC, it's a 2.5D side scrolling indie game with emphasis on flow game play. The creators of this game are Speelbaars, a group of six ambitious university students from the Netherlands, who were inspired by the success if indie games and developers.
The game Speelbaars have imagined and created is set in an enchanting yet hostile world. You control and guide to safety a swarm of cute, little creatures called 'Lumini'. Obstacles along your path include other creatures, who will try to have your swarm for breakfast.
The strategy of this game is simple but fascinating.  Along the way, you can divide your swarm to control them separately to outsmart the enemy an performing cunning manoeuvres and tactics. Also, though you will lose members of your swarm, you can extract energy from the planet's flora and use it to breed new and stronger 'Lumini' at mystical crystals you find scattered across the world.
The games most noticeable features include:
– Dynamic and realistic Swarm controls
– An adventurous world with lots to explore.
– Mesmerizing flow gameplay.
– Ambidextrous controls when splitting your swarm
– Dynamic and immersive audio.
Check out video trailer for the game below and for more info check out the official website for the game here.