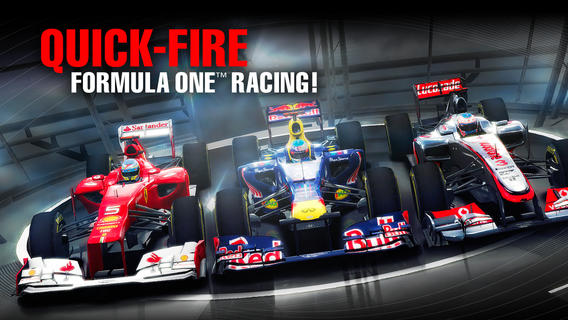 Welcome back for this week's iOS Game Suggestions. If you missed last week's, or are new to the suggestions, click on the link below and check out what cool games you should be picking up for your iOS device along with the introduction on how the suggestions work. (suggestions 1 has how it all works)
MasterAbbott's iOS Game Suggestions
A average week on iTunes! As always, it started slow and ended slow. But still as always, there are many must-buy games this week in all departments, FREE, 99c and over 99c. This week I've suggested a total of 13 great quality titles. Make sure you check them all especially… F1 Challenge, Steampunk Tower, Runnercraft, Advenchewers, Type:Rider, Football Heroes   just to name a few.
Break down below :
2 – FREE Games
6 – $0.99c Games
5 – Over $0.99c Games
As always for this week's suggestions are all new titles that you should take a look at and consider spending your hard earned iTunes cash / time on.  Well the Free games just below certainly should all be given a shot as they won't cost you anything!
For The Cheapskates – FREE GAMES
 
Football Heroes – Price : FREE – Publisher –

Run Games

 (Football Heroes is inspired by classic football games but modernized with controls specifically designed for touch-screens. Take on challenging teams in Single Player and claim the Cup Trophy, or play multiplayer anywhere via online, Wi-Fi or Bluetooth. Build and customize the ultimate team and fight your way to the end zone using special moves and perks to bring home the victory for your hometown. You have never seen a football game quite like this…

) runs on iPad & iPhone.

GET IT NOW FOR FREE

Arcade Ball – Price : FREE – Publisher –

Mobage

 (Bring the classic American arcade bowling experience everywhere with Arcade Ball for iOS! With a quick flick, roll the ball up the ramp and into one of the numbered holes for points, tickets tokens and achievements. Arcade Ball is easy to learn and easier to love: Play by simply flicking your finger across the screen. Tilt your device to add spin. Simple to play, impossible to stop! Win enough tickets to go on a shopping spree for fun prizes, custom lanes, and custom balls! Over 100 prizes across multiple collections!

) runs on iPad & iPhone.

GET IT NOW FOR FREE
For The Bargain Hunters – 99c Games
Steampunk Tower – Price : $0.99 – Publisher – Chillingo (Tower defense on the rise! Take charge of the immense Steampunk Tower and help the eccentric Lord Bingham protect his precious Etherium Mine. As the Imperial Army's foot soldiers and mechanical monstrosities march into battle, fortify your epic spire with machine guns, cannons, lightning coil, saw launchers and more. ) runs on iPhone & iPad. BUY NOW

 

Advenchewers – Price : $0.99 – Publisher – Warner Bros (Harness the mighty power of bubble gum in a high-flying adventure from Warner Bros.! When the world is faced with its darkest moment, there's only one thing to do…CHEW. Become an AdvenChewer and soar to your father's rescue before he's forced to serve an evil General. Using special bubble gum and friendly birds, fly through treacherous landscapes of cascading ice caverns, boiling volcanoes, and more. Float your way to the top of the leaderboards and crush your Facebook friends' high scores as you pop the General's plans and save your family. ) runs on iPad & iPhone. BUY NOW

 

KAMI – Price : $0.99 – Publisher – State Of Play Games (A beautiful and relaxing paper puzzle game. KAMI is deceptively simple: fold out coloured paper to fill the screen in as few moves as possible. Relaxing and easy to pick up, you'll soon find yourself deep in contemplation to perfect each puzzle. Created by State of Play, famous for their handcrafted aesthetic, KAMI has been created with real paper in an elegant Japanese theme. ) runs on iPhone & iPad. BUY NOW

 

Random Runners – Price : $0.99 – Publisher – Ravenous Games (The Random Heroes crew is back for more fun! Random Runners is a spin on the Random Heroes game in runner fashion! Play as a misfit group of heroes on their run-and-gun adventure taking on the most cliché bad guys ever, zombies! Choose your character, choose your weapon, and give 'em hell! Featuring both level based and endless gameplay mode, you can compete for high scores on the global leaderboards.) runs on iPhone & iPad. BUY NOW

 
Har Mo Ny – Price : $0.99 – Publisher –

Borderleap

 (har•mo•ny the addictive puzzler is pleasing to the eye, music to the ears and challenging to the brain! Your objective is simple, yet deceivingly complex: rearrange the blocks according to a harmonized palette of colors. Blocks may only move horizontally or vertically and each block must use up all its moves. Sophisticated color palettes range from simple boards with 3 colors up to incredibly challenging 10-color boards. As levels increase, so does the intricacy and beauty of each color palette. ) runs on iPhone & iPad.

BUY NOW

 

Forword Rush – Price : $0.99 – Publisher – Everplay (Use your fast reflexes and word building skills together in this brand new experience! The first of its kind, Forword Rush is a smart, slick, and stylish word adventure game that becomes more challenging as you progress through a variety of levels across three worlds. ) runs on iPhone & iPad. BUY NOW 
For The Millionaires – All games over $0.99
 

F1 Challenge – Price : $2.99  – Publisher – Codemasters (Complete over 90 racing events and recreate thrilling moments from the 2012 FIA FORMULA ONE WORLD CHAMPIONSHIP™ in F1 Challenge – an officially licensed FORMULA 1™ videogame.) runs on iPhone & iPad. BUY NOW

 
Runnercraft – Price : $2.99 – Publisher –

Interstellar Games

 (The premium block inspired endless runner has finally arrived! Come experience a blocky world like never before! Navigate perilous obstacles while collecting materials to craft items and power-ups to help you along the way. How far can you run?

) runs on iPad.

BUY NOW

 
Type:Rider – Price : $2.99 – Publisher –

Bulkypix

 (The European cultural TV channel Arte innovates and launches its first video game ! Immerse yourself in this fascinating and unique experience to uncover the history and secrets of Fonts & Characters ! Play as 2 dots and travel through the ages of typographic styles and techniques. From the rock paintings of prehistoric times to Pixel art of the 2000's, solve all the riddles by riding the most popular fonts and characters (Garamond, Helvetica, Times New Roman, Pixel, Comic Sans…) in a very captivating musical and visual environment.) runs iPad & iPhone. BUY NOW
 

Ring Run Circus – Price : $4.49  – Publisher – Kalio (Play in a dream world of connected circus rings, perform as three star acrobats and solve more than 50 tricky, skill-based puzzles in the world's first RING-FORMER. Soar and float through levels as the speedy and elegant Nina. Slap those who get in your way with proud Ned or play as Grandpa Nelson to change the order of things. Ring Run Circus is a ring-former: a platformer set on rings. Master each character and use them together to solve tricky puzzles.) runs on iPhone & iPad. BUY NOW

 

Duet Game – Price : $2.99  – Publisher – Kumobius. (Enter a mesmerising trance of co-dependence in Duet — a minimalist experience that will expand the limits of your perception and radial dexterity.) runs on iPhone & iPad. BUY NOW
There you have it folks these games should keep you busy for quite some time well until next week at least. I'll be back next week for another dose of iOS goodness, in the meantime if you would also like to suggest your own suggestions, please feel free to share them in the comments section below or in the iOS forum section on the site here.
Remember kids, Play Hard Or Don't Play At All!