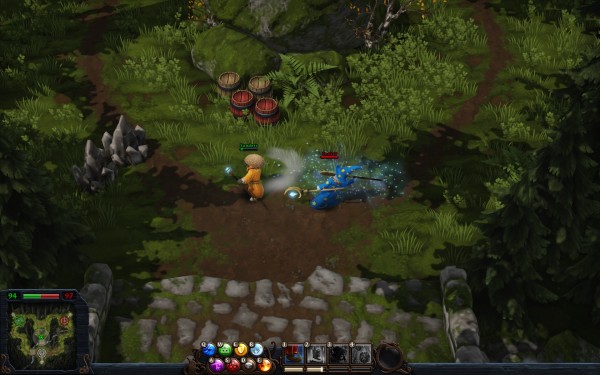 Paradox North's PVP title Magicka: Wizard Wars entered Steam's Early Access program for Windows. There are three different packs players can purchase ranging from $12.99 to $49.99 that will net them instant access to the game.
Anyone who signs up for the alpha will get free bonuses that will grow in numbers as more people invite their friends to try the game. Those who sign up will be placed in queue and receive keys as more slots in the alpha are made available.
Those who spend $12.99 on the game will receive a Green Founders Robe and a Founder Staff in game along with a special forum avatar and icon. The $19.99 tier contains a Yellow Founders Robe, a copy of Crusader Kings II, a Yellow Founders Robe forum icon, and access to the the Dev's Dungeon forum section. Finally, those who buy the $49.99 pack will receive a dapper Red Founder's Robe, a Founder's Weapon, $20 worth of in game currency, 3 alpha invites, a Founder w/ Imp forum avatar, and the right to name their imp. Each tier gains all the bonuses of the previous tiers.
The packages are available through the official Magicka: Wizard Wars site.