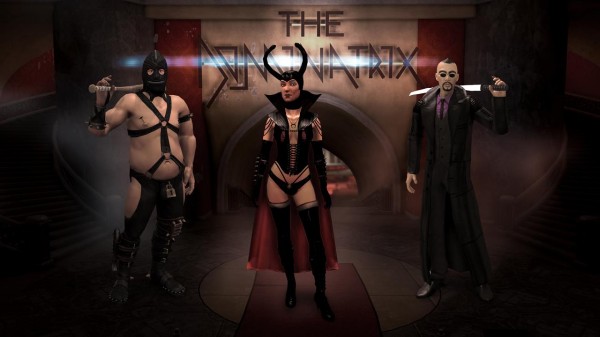 Okay, so something called a "Dildozer" now exists… only in the digital world of Saints Row IV, thank God! Not only will you be able to ride this (as the driver! Geez…), but you'll also have a plethora of new weapons, friends, enemies and missions to encounter in the infamous DLC 'Enter The Dominatrix' – which was once planned as an expansion to Saints Row The Third – and has been revived for standalone release and as part of Saints Row IV's Season Pass.
The DLC makes its long awaited arrival on October 22nd for $6.99, if you choose to purchase it separately. It delivers an alternate take on the Zin invasion storyline, where the Saints become trapped in a sexualised, virtual prison run by an A.I. program called The Dominatrix. You will encounter her army of gimps and sex-workers as you attempt to shut down her demented simulation. The DLC comes with a behind-the-scenes commentary on the content as well. Fans will also have the opportunity to ask the developers any questions they have in a 3-hour live-stream playthrough on October 23rd starting at 1pm Central Time on Volition's twitch channel.
The second half of the Season Pass, and final mission pack, 'How the Saints Saved Christmas', will be released later this year. For now, check out the gallery below for screenshots and a concept art piece of the title character from 'Enter The Dominatrix'.
P.S. Now that I think about it, doesn't Deep Silver sound like a vibrator name?