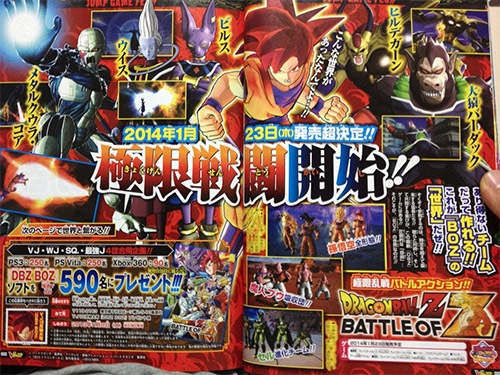 The latest scans out of Japan have revealed the final two giant boss characters that will be in the new Dragon Ball Z game Battle Of Z. In addition to Great Ape Gohan, Great Ape Vegeta and Hirudegarn, Great Ape Bardock and Giant Core Meta Cooler will also be available to fight in the games mission mode. Great Ape Bardock has not been in a game since Tenkaichi 3 where he was scaled down to be a playable character, while Giant Core Meta Cooler last appeared as a boss fight in Ultimate Tenkaichi.
The scans also show off several other small pieces of information. It looks like you can go back to any mission and use any combination of characters you wish, so you can beat up on Raditz as a team of Super Saiyan Goku's if you wish. Those having trouble with certain missions or who want a more social experience can call upon those who are online to help them complete missions they are having trouble with in the games multi mission mode. Readers with a very keen eye might notice that Goku is also shirtless in one of the small screenshots, giving hope for alternate outfits being present in the game.
The game will be releasing in Japan on January 23, 2014 for PS3, Xbox 360 and PS Vita as a digital download. Typically, Dragon Ball games have been releasing in the overseas markets first, so my guess is we will get the game slightly before that date or not too long after. Are you looking forward to this new title in one of the longest running animes of all time or will you be passing this up? Let us know in the comments.