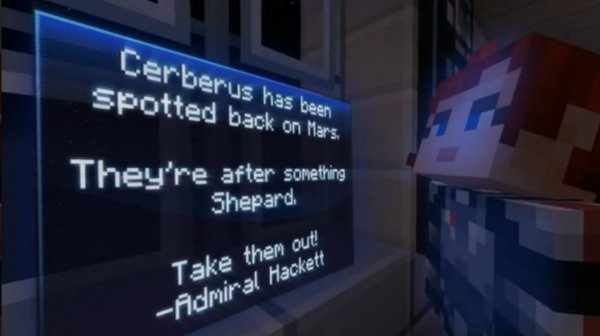 Minecraft for Xbox 360 will be getting a whole lot more versatility now that the latest update allows for the addition of texture packs, so that players will be able to get almost anything to look exactly how they want. With this latest update, developer 4J Studios has gotten started with "mash ups" that add lots of textures and skins from other IP and the first they will be releasing is for Mass Effect, from BioWare and EA.
Players will be able to play as Captain Shepard and crew, plus plenty of the other alien races for a total of 36 new skins, while the environment itself can look like the settings that Shepard is used to. To show this off the Mass Effect Mash-Up Pack will also include a world save of the Mars Facility. Also included are a Mass Effect themed UI, as well as a soundtrack with 22 songs based on Mass Effect 3.
The Minecraft Mass Effect Mash-Up Pack will be available tomorrow September 4th, 2013 for XBLA for $3.99, but those wanting to see a little bit of the additions in action can check out a trailer released by Hat Films, which is embedded below.