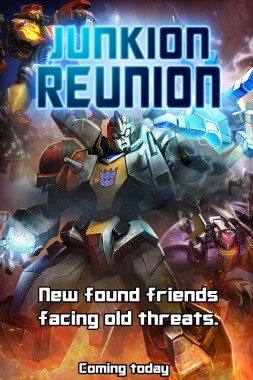 A new episode has just been released today for DeNA's popular mobile card battle game Transformers: Legends. The new episode is titled Junkion Reunion and involves an epic reunion on the planet Junkion.
The Junkion Reunion episode gives players new opportunities to get exclusive episode only cards to add to their decks for use in some intense card battles.
Available in the episode are 7x Episode Bonus Sharpshot Cards  which can be attained in the Episode Space Bridge or simply for 500 Ruby Medals and 5x and 3x Episode Bonus Sharpshot Cards which can be attained only with Ruby Medals.
You can download the Junkion Reunion episode now for iOS and Android here at the Mobage page for Transformers: Legends.