It's no surprise that Japan have some pretty cool cats in their popular culture, the two most recognizable ones being Hello Kitty and Doraemon. Now both kids and adults can enjoy these two felines even more with Doraemon snowboards and a Hello Kitty themed hotel room.
Snowboarding equipment company Burton will be releasing Doraemon snowboards for kids this September to commemorate the 80th birthday of Fujiko F. Fujio; one of the co-creators behind the cyborg futuristic cat. The "Doraemon After School Special" boards will have colourful designs on the front and back and will be available in three sizes; 80cm, 90cm and 100cm. Each board will cost 29,600 Yen ($296 USD).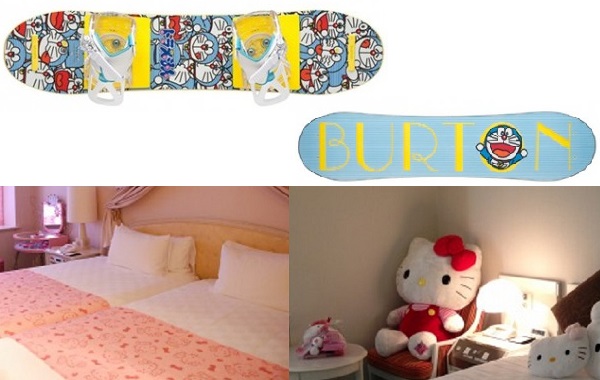 While the kids are learning how to snowboard you can relax in a Prince Hotel room that is covered completely with Hello Kitty. A sofa, table, plushies, framed pictures and even pillows and bed sheets are contained within the 59 square meter suite located in the Minato Ward in Tokyo. If you want to check in for a night the Prince Hotel is discounting the room to those who book after the 18th of August, the room will cost 15,000 Yen ($150 USD) for one person per night.
Let us know what you think about the Doraemon snowboards and the Hello Kitty Hotel room by leaving a comment in the section down below.