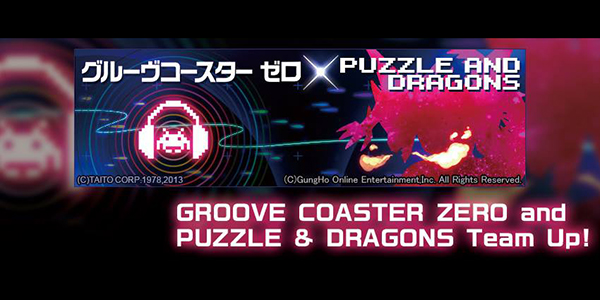 Music game Groove Coaster Zero will be teaming up with RPG game Puzzle & Dragon for a crossover event. The event begins on August 12th and will feature content inspired by the other game.
Groove Coaster Zero will be receiving a music DLC pack priced at $4.99. The pack contains four songs from Puzzle & Dragons and a special Puzzle & Dragons themed avatar. Three of the songs are composed by Kenji Ito and the last is remixed by ZUNTATA. During the event, one song will be available for free for all players. Groove Coaster Zero is a free to play game available on iTunes.
Puzzle & Dragons will have a new Groove Goaster Zero themed technical dungeons that features Space Invaders' cast of characters. There are four difficulty levels available for these dungeons. Puzzle & Dragons is also free to play and is available on iTunes and Google Play.