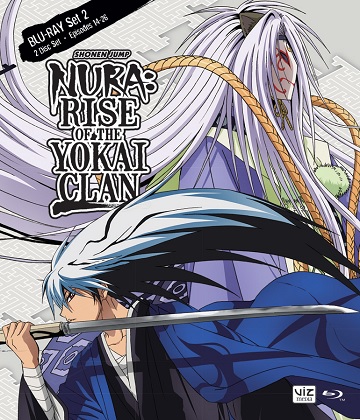 If you've already picked up the first half of the first season of Nura: Rise of the Yokai Clan then you'll be happy to hear that Viz Media has just announced that the second half of the first season will be hitting store shelves next week on August 20th.
Set 2 will cost $44.82 US/$43.24 CAN on DVD while the Blu-ray version will run for $54.97 US/$66.15 CAN. Set 2 includes episodes 14-26 and as far as bonus features go, this second set will only feature production art and the official trailer for this release.
Viz Media has provided a synopsis for Nura: Rise of the Yokai Clan Set 2 below:
In Nura: Rise of the Yokai Clan Set 2, the Nura Clan faces a menacing new threat: the 88 Demons of Shikoku, led by Inugamigyobu-Tanuki Tamazuki! Tamazuki sets his plan in motion to weaken the Nura Clan by targeting their key source of power – the local deities of Ukiyoe Town. In the absence of Supreme Commander Nurarihyon, Rikuo's resolve to become the Third Heir is put to the test, as he must unite the clan to face Tamazuki and his malicious weapon the Devil's Blade!