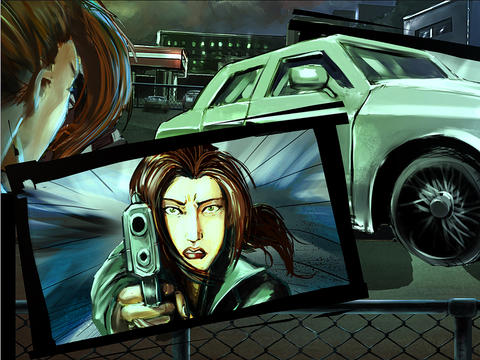 Welcome back for this week's iOS Game Suggestions. If you missed last week's, or are new to the suggestions, click on the link below and check out what cool games you should be picking up for your iOS device along with the introduction on how the suggestions work. (suggestions 1 has how it all works)
MasterAbbott's iOS Game Suggestions
A great week on iTunes! As always, it started slow and but ended with a bang! There are many must-buy games this week in all departments, FREE, 99c and over 99c. This week I've suggested a total of 15 great quality titles. Make sure you check them all especially… Doodle Fit 2, Cognition 2, DYING, Perfect Kick, Sage Fusion 2, Righteous Kill 2  just to name a few.
Break down below :
6 – FREE Games
2 – $0.99c Games
7 – Over $0.99c Games
As always for this week's suggestions are all new titles that you should take a look at and consider spending your hard earned iTunes cash / time on.  Well the Free games just below certainly should all be given a shot as they won't cost you anything!
For The Cheapskates – FREE GAMES
 
Doodle Fit 2: Around The World – Price : FREE – Publisher –

NAMCO Bandai

 (Travel the world, solving puzzles as you go! Visit 10 countries, each with 20 puzzles based on an item or landmark from that country. Some puzzles have multiple solutions and some feature interesting facts. Play in Around the World, Time Attack and Challenge modes, but that's just the tip of the iceberg! Doodle Fit 2 introduces a brand new Community section, featuring puzzles from players around the world. You can also easily draw or fit together a level of your own, give it a name, then share it with the world and your friends on Facebook and Twitter!

) runs on iPad & iPhone.

GET IT NOW FOR FREE

 
Linkies Puzzle Rush – Price : FREE – Publisher –

Ludia

 (Linkies Puzzle Rush shakes up the world of match-3 games with a twist. Link matching shapes as they collapse, collide and rebound before time runs out. Unleash powerful special effects and beat your friends' high scores. Collect enough stars in each level to unlock new worlds and new puzzles! Every level is a surprise!

) runs on iPad & iPhone.

GET IT NOW FOR FREE

 
Dots: A Game About Connecting – Price : FREE – Publisher –

Full Flat

 (The task is simple; connect as many same-colored dots as you can in 60 seconds. Get competitive by connecting Twitter and Facebook to see your friends' scores on the High Scores list. For the first time in Dots, an un-timed, moves based mode is available; kick back and take your time while planning strategic moves. You can also prove that you are better at Dots than your friends with our local Multiplayer mode. Play a board then pass to a friend for an ultimate one on one showdown. 

) runs on iPad & iPhone.

GET IT NOW FOR FREE

 
Animal Voyage: Island Adventure – Price : FREE – Publisher –

Pocket Gems

 (Explore mysterious islands and rescue stranded animals that need your help! Save exotic creatures from flooded islands and bring them safely home to build your very own animal paradise! 

) runs on iPad & iPhone.

GET IT NOW FOR FREE

 

Gold Diggers – Price : FREE – Publisher – Gamistry (Follow a team of notorious Gold Diggers while you take control of one of the wild west's best kept secrets: Gigantic Superlicious Steam-Punk Digging Trams. Your goal? To find yourself some Gold! Just steer the Digging Machine through multiple layers of the earth while you dodge Giant Worms, Flame Pillars and any dangers hidden in the depths of our planet. ) on iPad & iPhone. GET IT NOW FOR FREE

 
Perfect Kick – Price : FREE – Publisher –

Chillingo

 (Become a star striker in Perfect Kick. Think you're the best at penalties in soccer? Put it to the test against other players from all around the world!

) runs on iPad & iPhone.

GET IT NOW FOR FREE
For The Bargain Hunters – 99c Games
| | |
| --- | --- |
|   | W.E.L.D.E.R – Price : $0.99 – Publisher – Ayopa Games (Weld words in the word machine! Create clever combos and multiply your score using gem and gold tiles. Increase your vocabulary using iOS 5's in-built dictionary – discover definitions of words you never even knew existed! Earn powerful special abilities like Group, Reverse, and Jump Swaps, and complete particularly tricky terms with blank wooden pieces. Supports iOS 5's iCloud saving feature. Potentially unlimited gameplay!) runs on iPhone & iPad. BUY NOW |
|   | Cytus – Price : $0.99 – Publisher – Rayark (In the distant future, the only sentient beings in the world are robots. They are the last remnant of the human spirit. However, mankind is not dead. Technology exists that is capable of transferring memories to these robots. But with limited space, new memories will gradually overwrite the old. To prevent the emotions in human memories from fading away, the robots resorted to converting the emotions to music, and storing them in a place called Cytus. The robots use these songs to experience human emotion and dream that souls exists in each of them…) runs on iPad & iPhone. BUY NOW |
For The Millionaires – All games over $0.99
 

MasterAbbott's over 99c Pick Of The Week!

Cognition Episode 2 – Price : $3.99  – Publisher – Phoenix Online Studios (When someone close to Erica is kidnapped by the Wise Monkey, a serial killer fixated on the gruesome mutilation of their victims, Erica is in a race against time to save his life. With the Wise Monkey case in her hands and the FBI's resources already stretched thin, she's on her own to find the killer before it's too late – again. Erica Reed's investigation continues in Episode 2: The Wise Monkey.) runs on iPhone & iPad. BUY NOW

CHECK OUT OUR REVIEW FOR COGNITION EP 2 HERE

 

DYING: Sinner Escape – Price : $2.99  – Publisher – NEKCOM (DYING: Sinner Escape is a 3D horror Room-break game that combines a deep storyline with rich and seamless cinematics. Troy Dunniway, an award winning Creative Director on over 80 top AAA games, such as "Age of Empires" and "Ratchet & Clank", is the Executive Producer on this exciting and horrific new title. Created by top Hollywood movie and game development talent, the game features a mysterious and compelling storyline that revolves around a curious plan and secret events.) runs on iPhone & iPad. BUY NOW

 

Sage Fusion 2 – Price : $1.99  – Publisher – Kidalang (Set in a futuristic universe in which artificial intelligence is considered religious taboo, Sage Fusion 2 tells the adventure of a businessman and his bodyguard who descent to an underground world, trying to get back their reportedly stolen spaceship after it fell and crashed in the middle of the city—an accident behind which lies a conspiracy that involves the galactic government, the military, the church, and centuries-old historical legend.) runs on iPhone & iPad. BUY NOW

CHECK OUT OUR REVIEW FOR SAGE FUSION 2 HERE

 
Righteous Kill 2: Revenge Of The Poet Killer – Price : $5.49 – Publisher –

G5 Entertainment

 (Join tenacious NYPD investigator Erica Dean in her next search as she hunts down the dangerous "Poet Killer." Carefully study a rash of murders across New York City, each of them connected by a tantalizing note left behind. Scour the crime scenes for evidence and clues, dust for fingerprints, re-assemble torn documents and compare bullets in the ballistics lab. Be careful who you trust and act fast in order to prevent the next murder!

) runs on iPad.

BUY NOW

Hill Bill – Price : $1.99 – Publisher –

B27

 (Hill Bill is a motorcycle trick jumping game starring a hillbilly with Evel aspirations. Play across 6 beautiful worlds and over 60 levels. Our hillbilly Bill dreams to be just like his idol Evel Knievel. With his trusty 3rd hand garage sale bike he sets up his very own ramps and starts riding. Soon he's mastering jumps and tricks on bigger and bigger homemade ramps in his backyard.) runs iPad & iPhone. BUY NOW
 

Solar Flux – Price : $3.99  – Publisher – Firebrand Games. (Galaxies are in turmoil as their suns are dying. The Solar Galaxy Federation has deployed vast Flux Accumulator ships to collect plasma and restore the suns' equilibrium in each nebula. Solar Flux is a unique space puzzle game where you journey across the universe using both puzzle solving and dexterity skills to bring order to the cosmos. Supernovas, Asteroid Fields, Meteors and Black Holes are just some of the challenges you will encounter as you sail your ship through the solar flares of each imploding sun. ) runs on iPhone & iPad. BUY NOW

 

Pirate Legends TD – Price : $4.99  – Publisher – Super Hippo Studios Limited. (Are you ready to set sail and blow some salty sea dogs to smithereens? Scour the world in this amazing new nautical strategic defense game – Welcome to Pirate Legends exclusively on iPhone and iPad!) runs on iPhone & iPad. BUY NOW
There you have it folks these games should keep you busy for quite some time well until next week at least. I'll be back next week for another dose of iOS goodness, in the meantime if you would also like to suggest your own suggestions, please feel free to share them in the comments section below or in the iOS forum section on the site here.
Remember kids, Play Hard Or Don't Play At All!