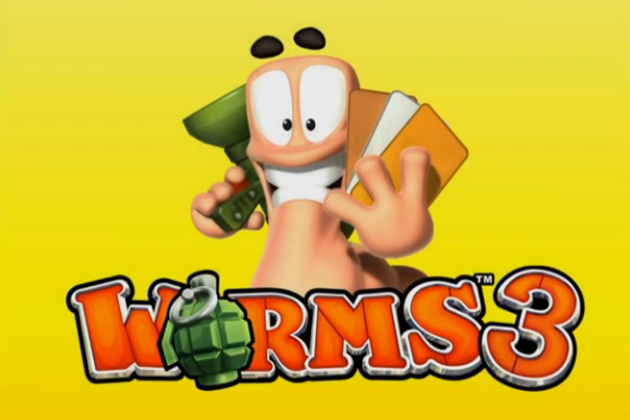 Welcome back for this week's iOS Game Suggestions. If you missed last week's, or are new to the suggestions, click on the link below and check out what cool games you should be picking up for your iOS device along with the introduction on how the suggestions work. (suggestions 1 has how it all works)
MasterAbbott's iOS Game Suggestions
An average week on iTunes! As always, it started slow and ended with a little bang! There are many must-buy games this week in all departments, FREE, 99c and over 99c. This week I've suggested a total of 14 great quality titles. Make sure you check them all especially… Worms 3, Mikey Hooks, Abyss Attack, Swift Revenge, NFL Pro 2013, Ultima Forever  just to name a few.
Break down below :
8 – FREE Games
3 – $0.99c Games
3 – Over $0.99c Games
As always for this week's suggestions are all new titles that you should take a look at and consider spending your hard earned iTunes cash / time on.  Well the Free games just below certainly should all be given a shot as they won't cost you anything!
For The Cheapskates – FREE GAMES
 

MASTERABBOTT'S FREE GAME PICK OF THE WEEK!

Ultima Forever – Quest For The Avatar – Price : FREE – Publisher – EA Mobile (Ultima Forever™: Quest for the Avatar is EA Mythic's new free online, multiplayer, action role playing game (RPG). Embark on epic online adventures with friends and begin your quest to defeat The Black Weep and become the Avatar of Renown.) on iPad & iPhone. GET IT NOW FOR FREE

 
Ninja Cats Vs Samurai Dogs – Price : FREE – Publisher –

Eutechnyx Limited

 (Ninja Cats Vs Samurai Dogs depicts the epic showdown between the feline and canine races,set in a fictional world based on the Japanese medieval era. Guided by a wise Sensei, who provides tips, advice and guidance, you will seek to achieve victory over your oldest enemy.

) runs on iPad & iPhone.

GET IT NOW FOR FREE

 
Protoxide: Death Race – Price : FREE – Publisher –

Herocraft

 (Are global warming, abnormal weather, increasing number of cataclysms all over the planet, cocktails of earthquakes, tsunamis and blowing nuclear power-stations the reasons to think about incoming apocalypse? «Protoxide: Death Race» offers you their version of the "world after 2012". 

) runs on iPad & iPhone.

GET IT NOW FOR FREE

 
Tyrant Unleashed – Price : FREE – Publisher –

Kongregate

 (Lead your Faction to Victory! Tyrant Unleashed is a futuristic combat CCG. Build your deck, upgrade your cards and battle thousands of players online! Tyrant Unleashed is a compelling combination of strategy and fast-paced battles. Create a deck of noble Imperials, ruthless Raiders, menacing Bloodthirsty, cunning Righteous and destructive Xeno to annihilate other players.

) runs on iPad & iPhone.

GET IT NOW FOR FREE

 
NFL Pro 2014 : The Ultimate Football Simulation – Price : FREE – Publisher –

Gameloft

 (NFL Pro is back on your smartphone and tablet. As the only free-to-play football simulation game, NFL Pro 2014 is now more immersive, more realistic and more social.

) runs on iPad & iPhone.

GET IT NOW FOR FREE

 

MLB Ballpark Empire – Price : FREE – Publisher – MLB.com (The game that puts you in the executive suite managing your own MLB team and stadium is now available on the go. Your Facebook account is fully synced across all devices, so your progress will be accessible anywhere! Select your favorite MLB team and build your roster with hundreds of real MLB players. Build your team's stadium just like in real life or mix your favorite elements together. You'll find iconic ballpark favorites like the Green Monster, Monument Park, the Think Blue Dodgers sign, the Cubs W flag, and much more!) on iPad & iPhone. GET IT NOW FOR FREE

 
Amateur Surgeon 3 – Price : FREE – Publisher –

Adult Swim

 (HAVE YOU EVER WANTED TO OPERATE ON A MUTANT BEAR WITH A CHAINSAW?*If so, then you are wasting time reading this when you could be playing "AMATEUR SURGEON: TAG-TEAM TRAUMA" and LIVING THAT DREAM. As rookie surgeon Ophelia Payne you must cut your way to the heart of a dark mystery while saving lives using your trusty pizza cutter, stapler, car battery – and host of other inappropriate tools! 

) runs on iPad & iPhone.

GET IT NOW FOR FREE

 

Paper Streets – Price : FREE – Publisher – Breaktime Studios (Build your own storybook city in Paper Streets – A completely new experience with simple gesture controls and vibrantly colorful streets to build out. ) on iPhone & iPad. GET IT NOW FOR FREE
For The Bargain Hunters – 99c Games
 

Swift Revenge – Price : $0.99 – Publisher – Ayopa Games (Dive through insane vertical-scrolling levels packed with fiendish enemies, fearsome bosses and ingenious obstacles! Quest through space and time to defeat the evil megalomaniac, Doctor Crow. Unlock super skills and powerful weaponry to overcome addictive new challenges on every fast-action stage!) runs on iPhone & iPad. BUY NOW

CHECK OUT OUR REVIEW FOR SWIFT REVENGE HERE

 

Valkyrie – Price : $0.99 – Publisher – Bitfrost Studios (This first-person runner is not for the faint-of-heart or the slow of reflex. You have to jump, you have to slide across light bridges and deactivate walls—all while running and collecting souls. You may want to keep both thumbs close to the screen at all times. ) runs on iPad & iPhone. BUY NOW

 

Abyss Attack – Price : $0.99 – Publisher – Chillingo (Submerge into the deep blue and discover an endless underwater voyage unlike anything you've seen before. Explore an ocean floor illuminated by waves of colorful creatures and fight for survival against the sea's dangerous leviathans.) runs on iPhone & iPad. BUY NOW
For The Millionaires – All games over $0.99
 

MasterAbbott's over 99c Pick Of The Week!

Worms 3 – Price : $5.49  – Publisher – Team 17 (The follow up to the award-winning, best-selling Worms 2: Armageddon is here! Worms™ 3 has been designed and developed exclusively for iOS. DEAL yourself the advantage with a new, game-changing enhancement. Turn on the card mode and alter the start and end of each turn by the playing of strategic cards.) runs on iPhone & iPad. BUY NOW

Mikey Hooks – Price : $1.99  – Publisher – BeaverTap Games (RUN, JUMP, SLIDE, and HOOK! Collect coins and find hidden Golden Shorts! Watch out for enemies and spikes! 6 unique environments with 36 levels. Over 220 fun disguises. Race against ghosts. Compete on Game Center. Earn achievements. Customize your controls. View your game stats) runs on iPhone & iPad. BUY NOW

 
F18 Carrier Landing – Price : $3.99 – Publisher –

RORTOS DI SIMONETTO

 (Flight simulator for mobile phones – Version 5.8: the most advanced flight system ever. Landing on an air carrier is one of the toughest tasks that a fighter pilot has to undertake. The flight deck is only 150 meters long, just enough to stop your F/A-18 Hornet. Become a Top Gun pilot and have fun doing stunts and the toughest maneuvers.

) runs on iPad.

BUY NOW
There you have it folks these games should keep you busy for quite some time well until next week at least. I'll be back next week for another dose of iOS goodness, in the meantime if you would also like to suggest your own suggestions, please feel free to share them in the comments section below or in the iOS forum section on the site here.
Remember kids, Play Hard Or Don't Play At All!