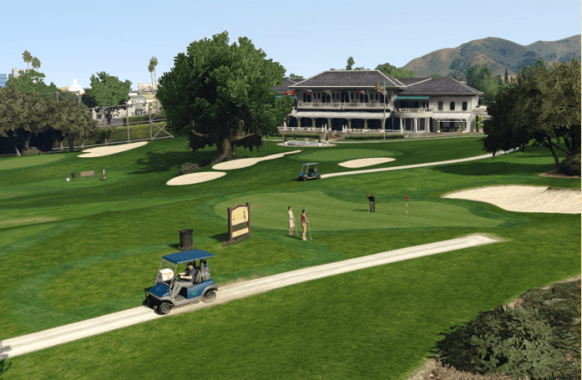 Rockstar Games have updated their Grand Theft Auto V Travelogue, showcasing three new areas of recreational activity for GTAV fans to explore in Los Santos and Blaine County, before the game is released next month on Xbox 360 and PS3.
The beautiful West Coast destination offers:
Exclusive Country Clubs: Los Santos Golf Club provides members with an exclusive V.I.P experience; where custom and formality are prioritised, women are carefully selected and you can privately tee off with the privileged and pompous.
Local Artisans: join the customer wall of shame at the local tattoo parlours, Ink Inc or Blazing Tattoo, and let one of the talented and highly-trained artists help you make a decision that will last forever.
Serenity & Wellness: visit the Master Private Yoga Instructor, Fabien LaRouche to practice deeply spiritual poses that you can contort your body into; including the Downward Facing Camel, Punching Starfish and Lucky Triangle.
Before Grand Theft Auto V's release September 17, go to the official GTAV website for further updates on the travelogue and official artwork for Grand Theft Auto Online and Trevor: Cut Here.
Check out the Grand Theft Auto V screenshots in the gallery below and let us know what you think of the upcoming game in the comments section below.