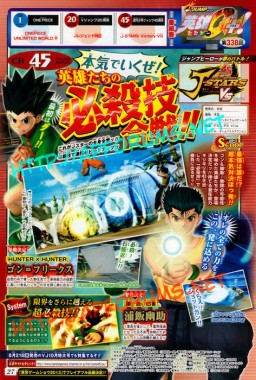 The latest issue of Weekly Shonen Jump has confirmed that Gon Freecss and Yusuke Urameshi will be playable characters in the hotly anticipated Shonen Jump fighting game J-Stars Victory VS.
For those who do not know, Gon is the protagonist of Hunter x Hunter and Yusuke is the protagonist of Yu Yu Hakusho, both manga series from legendary mangaka Yoshihiro Togashi. You can check out Gon and Yusuke in their J-Stars game form in the image to the right.
Stay tuned as more characters are revealed for J-Stars Victory VS. We recently posted a feature article on characters we feel should appear in the game, you can see who we think should be in the game here.