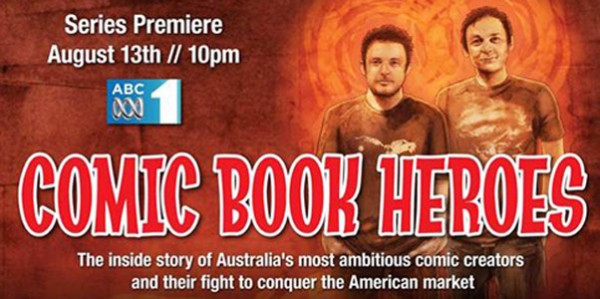 Comic Book Heroes is a documentary that follows the life and trials of two talented Australians, Skye Walker Ogden and Wolfgang Bylsma, who have a crazy dream; to penetrate the American-dominated market of comic books and graphic novels. The pair, founded their company Gestalt Publishing 8 years ago, and since then have worked tirelessly producing high quality graphic novels.
Despite their hard work, the American comic book market is one of the toughest in the world to crack, and as the guys get older, the stresses of life set-in, so they make a bold decision: Head to San Diego Comic Con and work their way into the industry. The documentary follows their risky trip to the world's biggest comic book convention, and the struggles that they face along the way. I wont spoil anything, but be prepared to see some of the industry's big-wigs, like Kevin Smith, and the man himself Stan Lee.
Comic Book Heroes will be premiering on your TV screens on ABC1 this Tuesday 13th August at 10:00pm, with the second episode airing on the 20th at the same time. We have seen Comic Book Heroes and if you are into comic books or are interested in how the industry works from the inside, then this is something you don't want to miss. In the mean time, if you want to know more about the guys, or about Gestalt Publishing, then check out their Official Website, as well as purchasing their books here.
Check back for our review of Comic Book Heroes, which will be going live over the weekend, and as always, stay tuned to Capsule Computers for all the comic book news as it becomes available.