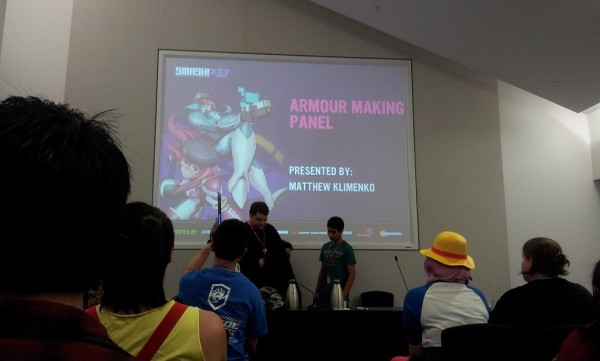 At the SMASH! Sydney Manga and Anime Show this year there was a panel on armour making held upstairs in the Siren Visual panel room. The panel was presented by a Matthew Klimenko, who is an expert in the armour making process.
The panel was a discussion on the armour making process and also included a live demonstration of a cold casting session. Cold Casting is the process of making plastic feel and look like metal. There was a discussion on plastic over fibreglass which ended with fibreglasses being not durable as much as plastics can be. Therefore it better to use plastics.
The discussion of adding nickel to plastic was pretty interesting. But I was immediately lost once the mathematics got introduced. However, Matthew made a point to say that his ratio was something that you can vary from.
Interestingly, plastics natural colour is of a yellow variety. The hardening agent used in the demonstration was of a clear colour and the metal compound was a brown colour. It was also stated to never mix all of the ingredients together, only do two parts first. There was also a point made about not stopping the stirring process as it would stop the molecules and they would sink down into the batch. Which would make it spread oddly and ruin the process.
Someone during the panel brought up the issue of using latex over silicon to use as a mold. Matt responded with something along the lines of: if you're using Latex over silicon you will need a releasing agent of some kind. Avoid using Wax molds. The construct will heat as it is being made, and so using wax will cause the mold to melt and disfigure.
Below are a couple of resources that Matt advised checking out for various products to assist in the process.
Suppliers: Allied Supplier Co.
Smooth-On (smooth-on.com)
For additional info, we advise checking out Find Your Collectibles, which is the website that was run by the show-runner of this panel.