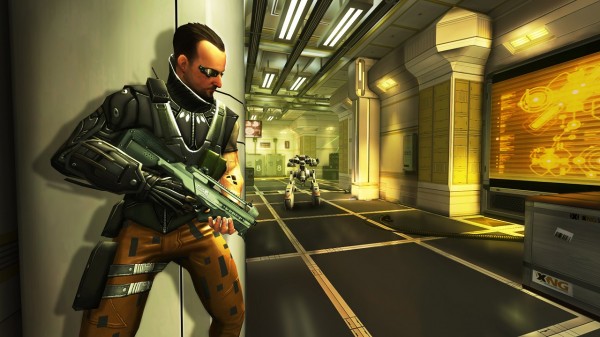 The winner of seven "Best Mobile/iOS Game" awards at E3 2013, Deus Ex: The Fall is available now for $7.49 from the App Store for the iPhone, iPad and iPod Touch.
Deus Ex: The Fall was developed by Square Enix's mobile division in Europe, in collaboration with the Deus Ex: Human Revolution team at Eidos Montréal, and N-Fusion, though the story is not a sequel to the console favourite. It's an entirely new journey set in the year 2027 – also known as the Golden Era – featuring an augmented former British SAS Mercenary named Ben Saxon,who is desperate to discover the truth behind a global drug conspiracy that has been threatening his life.
Jean-Francois Dugas, Executive Game Director at Eidos Montréal, said;
We're excited to bring the Deus Ex universe onto a new platform and allow more gamers to experience the franchise. We've worked hard to create a true Deus Ex experience for mobile and tablet devices and we're really pleased with what we've achieved.
It should be noted that Deus Ex: The Fall is currently compatible with the iPod Touch 5, iPhone 4S and above, and iPad 3 and above. It will soon be made to work on the iPad 2, and an Android release has been slated for later in the year.