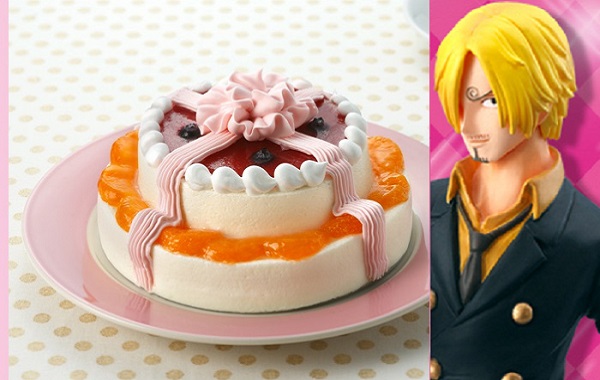 The head chef for the Straw Hat Pirates has created a special wedding styled cake for all of his real life female fans, which will be on sale through the Bandai online store in Japan.
The two layered Gateau Decore Je T'aime cake looks pretty delectable; the top layer covered in what appears to be blueberries and strawberry jam, with a ring of orange slices around the second layer. All of this is topped off blobs of icing and a ribbon of pink icing to wrap the whole thing up. As if this wasn't a gift enough, the cake also comes with a small figurine of the One Piece cook, who is also holding a smaller version of the cake in his right hand.
As delicious as it may look the cake does come frozen and it is only 9cm high with a 15cm diameter, which is pretty small compared to its 3,500 Yen (35USD) price tag. Pre orders can be made now through the Bandai online store and the cake is expected to ship in October.
Let us know in the comments what you think about this One Piece cake, and what other anime food items you would like to see be made.