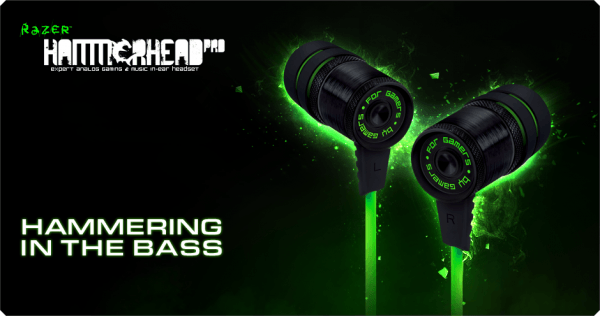 The Razer Hammerhead are the latest in Razer's line of headphone peripherals aimed at the hardcore gamer market. What's interesting about this particular pair of earphones is that they come in two flavours, the Hammerhead and the Hammerhead Pro.
The thing that differentiates the two headphones apart from each other is that the Pro headphones will also feature an omnidirectional microphone down its line, whilst the original does not. Both headphones run on the same neodymium drivers, meaning that audio playback will be as clear as day on both sets. They will both also offer the user the ability to switch out the heads with three sizes available to choose from, meaning that most users will be able to find a comfortable fitting and listening experience.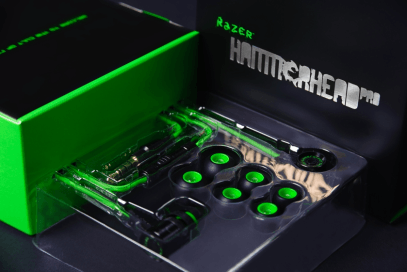 On the Hammerhead headphones, Razer CEO, Min-Liang Tan, had this to say:
"With numerous mobile PC gaming systems emerging, peripherals that offer both great performance and portability on-the-go are what make the experience complete," says Min-Liang Tan, Razer co-founder, CEO and creative director. "The Razer Hammerhead and Hammerhead Pro's unrivalled durability and deep bass tones are fantastic for any gamer or music listener with an active lifestyle."
Product features:

· Machined lightweight aluminum body

· Advanced passive noise isolation

· Interchangeable ear-tips with bi-flanges

· Powerful drivers for supreme audio fidelity with extreme bass

· Compatible with iPhone, Android and mobile devices

· Omnidirectional microphone

· Audio/Mic splitter adapter for PC connection

Headphones

· Drivers : 9 mm Neodymium Magnets with CCAW

· Frequency Response : 20 Hz – 20 kHz

· Impedance : 16 Ω

· Sensitivity @ 1 kHz : 106 dB

· Input Power : 1 mW @ 126 mV

· Cable Length : 1.3 m / 4.27 ft

· Approximate Weight : 12.5 g / 0.03 lbs

· Connector: Analog 3.5 mm Combined Jack (Headphone and Mic)

Microphone

· Frequency response : 50 Hz – 10 kHz

· Signal to Noise Ratio : 55 dB

· Sensitivity (@1kHz) : -42 dB +/-3 dB

· Pick Up pattern : Omni-Directional
Be sure to check out the official site for more info and to purchase your pair. The Hammerhead headphones release in August, 2013.