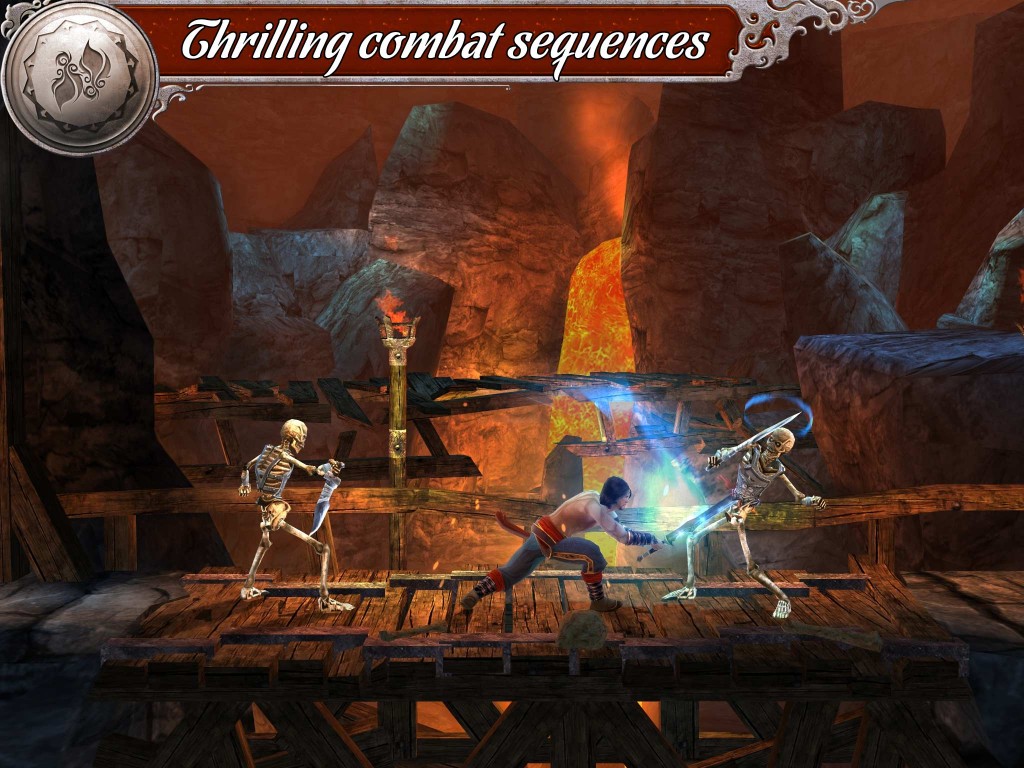 Welcome back for this week's iOS Game Suggestions. If you missed last week's, or are new to the suggestions, click on the link below and check out what cool games you should be picking up for your iOS device along with the introduction on how the suggestions work. (suggestions 1 has how it all works)
MasterAbbott's iOS Game Suggestions
A great week on iTunes! As always, it started slow and but ended with a bang! There are many must-buy games this week in all departments, FREE, 99c and over 99c. This week I've suggested a total of 18 great quality titles. Make sure you check them all especially… Prince Of Persia, WatchCraft, TownCraft, BLOODMASQUE, Asterix: MegaSlap, Tiny Pop, Consoles Video Games Quiz  just to name a few.
Break down below :
7 – FREE Games
3 – $0.99c Games
8 – Over $0.99c Games
As always for this week's suggestions are all new titles that you should take a look at and consider spending your hard earned iTunes cash / time on.  Well the Free games just below certainly should all be given a shot as they won't cost you anything!
For The Cheapskates – FREE GAMES
 
Iron Force – Price : FREE – Publisher –

Chillingo

 (Take part in epic, explosive multiplayer tank battles in Iron Force. Join forces with your friends in team-based battles, or have a free-for-all. 

) runs on iPad & iPhone.

GET IT NOW FOR FREE

 
Rivals At War: 2084 – Price : FREE – Publisher –

Hothead Games

 (The year is 2084 and the galaxy is in chaos. Humanity has discovered alien technology allowing space travel between the planets, opening up the universe for exploration and conquest. Forces around the solar system battle for supremacy, but one leader must rise up to unite the galaxy against all intergalactic invaders. Welcome to the ultimate sci-fi adventure, Rivals at War: 2084. 

) runs on iPad & iPhone.

GET IT NOW FOR FREE

 
Dreamscapes: The Sandman – Price : FREE – Publisher –

G5 Entertainment

 (Journey into a young girl's nightmares in this gripping hidden object adventure! Laura has been haunted by eerie dreams of the Sandman ever since she was a child. The magic Dreamcatcher her father gave her has protected her for many years – but not anymore.  Her Dreamcatcher has shattered, leaving her trapped in an endless nightmare.

) runs on iPad & iPhone.

GET IT NOW FOR FREE

 
Consoles Video Games Quiz – Price : FREE – Publisher –

Undercoders

 (How many video game consoles can you name? Find it out in Consoles Video Games Quiz, the most comprehensive console trivia game available on the AppStore Write the name of the pictured console to clear a level. Do it as fast as you can and earn high scores and Video Game Quiz coins!

) runs on iPad & iPhone.

GET IT NOW FOR FREE

 

Planet Drop – Price : FREE – Publisher – PIVi & Co (Life has mysteriously vanished from the whole Plop Galaxy… Only you can save it! To achieve this, you must heal the planets by guiding them under the magic drops. But be careful! If you miss your shot, it's a disaster!) on iPad & iPhone. GET IT NOW FOR FREE

 
Game Of War – Fire Age – Price : FREE – Publisher –

Machine Zone

 (Join the ULTIMATE BATTLE for DOMINATION of the WORLD! PLAY FOR FREE in the most addicting & interactive MMO GAME!! Join Millions of Online Players from around the World, BE PART OF ALLIANCE & Make FRIENDS. HELP, TRADE & CO-OP With ALLIANCE MEMBERS & Become the KING!! Build & Customize your Empire. Train & Level-up your HERO!! 

RESEARCH to make your EMPIRE more POWERFUL!

) runs on iPad & iPhone.

GET IT NOW FOR FREE

 

Tiny Pop – Price : FREE – Publisher – Com2us (Save the Tiny Farm Animals! Oh no! The cute animals from Tiny Farm are trapped inside bubbles! Work with the Tiny Farm Sheep to rescue as many animals as you can. Pop special power-up bubbles to save more animals at once. Join your cute animal friends and burst bubbles in Tiny Pop!) on iPhone & iPad. GET IT NOW FOR FREE
For The Bargain Hunters – 99c Games
| | |
| --- | --- |
|   | Asterix: Megaslap – Price : $0.99 – Publisher – Bulkypix (It's 50 BC and the whole of Gaul is occupied by the Romans… The whole of it? Not quite! A village inhabited by indomitable Gauls still continues to and always will resist the invader. Today is a holiday for the Gauls. The whole village is getting together to celebrate the Festival of Punches. The aim is simple: send the Romans as far away as possible to achieve victory. The winner will receive a kiss from the beautiful Panacea.) runs on iPhone & iPad. BUY NOW |
|   | Bird Zapper: Seasons – Price : $0.99 – Publisher – Namco Bandai (Get your hands on the latest, most epic follow up from the original multimillion downloaded hit in this action puzzle release sequel: Bird Zapper Seasons! Join our furry hero in this latest exploit against the birds that have disturbed his quiet life: zap'em, freeze'em, tap'em, pretty much do anything to whack'em. ) runs on iPad & iPhone. BUY NOW |
|   | Ninja Warrior Game – Price : $0.99 – Publisher – Marvelous AQL (Create, train, and compete in a side-scrolling platformer where every level is a brutal race to the finish. Get ready to hone your skills and speed – you'll need experience to beat the competition and the best time wins! Insane obstacles and challenging courses will put you to the test at every turn in this game based on the hit Japanese sports entertainment show) runs on iPhone & iPad. BUY NOW |
For The Millionaires – All games over $0.99
 

MasterAbbott's over 99c Pick Of The Week!

Prince Of Persia: The Shadow and The Flame – Price : $2.99  – Publisher – UBISOFT (The rebirth of the legendary action-platformer, with brand-new visuals and controls redesigned to fit your device.  Set after the events of Prince of Persia Classic, Prince of Persia The Shadow and the Flame continues the saga of the wanderer who was born a Prince. Now he must embark on an epic journey in search of his past that will redefine his future! ) runs on iPhone & iPad. BUY NOW

 

Game Of Watchcraft – Spawn Of Squishy – Price : $2.99  – Publisher – eSolution (It's everyone's favourite MMO reimagined as a 1980's LCD games console! Complete quests! Fight the boss! Level up! Complete more quests! Fight the boss again! Did we mention that you level up? Game of Watchcraft is the new gaming sensation sweeping the nation. Gamers are losing hours, weeks, spouses and careers, enthralled by its deep world, immersive graphics and repetitive action. Can you survive its addictive appeal?) runs on iPad. BUY NOW

 
The Inquisitor – Book 1 : The Plague – Price : $4.99 – Publisher –

Microids

 (A will of steel, a heart of stone, intelligence as sharp as a knife, and wisdom as deep as oblivion. Eymerich is called upon to investigate an obscure case. Something that goes way beyond heresy, revealing a new face of Evil. He must tackle a great number of arduous tasks and make many painful choices. Terrible creatures await him, but with his burning determination he will overcome a Plague that is deadlier than his worst possible nightmare.

) runs on iPad.

BUY NOW

 
TownCraft – Price : $5.49 – Publisher –

Flat Earth Games

 (The first game from Flat Earth Games, created by two brothers from Sydney, Australia and their team of intrepid developers. TownCraft is a surreal crafting and city-building game for iPad Mini, iPad 2 and newer. You are alone in the wilderness back in medieval times, and must start a new town to be the celebration of all the kingdoms! To the West lies King Oligarchy, a narcissist primarily absorbed by his own reflection. To the East: Queen Omnibus, busy 'taming' neighbouring kingdoms with the tip of her blade.) runs iPad & iPhone. BUY NOW
 

PREHISTORIK – Price : $2.99  – Publisher – Microids (Prehistorik is a game that was first released in the 90s on the Amiga, Atari ST, Amstrad CPC and DOS and still remains one of the world's benchmarks in platform gaming.In this version, everything has been totally revised, which equals more fun for players!) runs on iPhone & iPad. BUY NOW

 

Freedom Fall – Price : $5.49  – Publisher – Stirfire Studios (Freedom Fall is a fast-paced down-scrolling platformer. Run, jump, plummet, glide, slide, swim and bomb your way down through a towering mechanical maze and onto freedom. It's a trip brimming with devilish traps, dark humour and fractured fairy-tale heart.) runs on iPhone & iPad. BUY NOW

 

Bloodmasque – Price : $7.49  – Publisher – Square Enix. (Peel back the masque, and look upon the face of terror. An age of darkness has fallen as vampires rule over mankind, and only the half-vampire hunters can herald the dawn. You are the hunter, stalking your bloodthirsty prey to deliver humanity from the deathless clutches of tyranny. The hunt is on.) runs on iPhone & iPad. BUY NOW

 
Riptide GP2 – Price : $2.99 – Publisher –

Vector Unit

 (Riptide GP™2 is the full-featured sequel to the premier console-quality water-racing game on mobile.  Riptide GP2 kicks everything into overdrive, with intense online multi-player races, upgradeable hydro jets and riders, improved graphics, an all-new career mode, and a whole new stunt system with dozens of new tricks!

) runs on iPhone & iPad.

BUY NOW
There you have it folks these games should keep you busy for quite some time well until next week at least. I'll be back next week for another dose of iOS goodness, in the meantime if you would also like to suggest your own suggestions, please feel free to share them in the comments section below or in the iOS forum section on the site here.
Remember kids, Play Hard Or Don't Play At All!