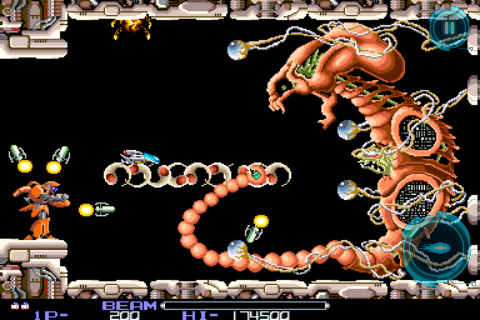 Welcome back for this week's iOS Game Suggestions. If you missed last week's, or are new to the suggestions, click on the link below and check out what cool games you should be picking up for your iOS device along with the introduction on how the suggestions work. (suggestions 1 has how it all works)
MasterAbbott's iOS Game Suggestions
A great week on iTunes! As always, it started slow and but ended with a bang! There are many must-buy games this week in all departments, FREE, 99c and over 99c. This week I've suggested a WHOPPING total of 31 great quality titles. Make sure you check them all especially… R-Type, Pacific Rim, Zombies!!!, Kamikaze Pigs, SongRush, PAC-MAN Dash!, Cannon Crasha, Contra: Evolution,  ,  just to name a few.
Break down below :
5 – FREE Games
8 – $0.99c Games
18 – Over $0.99c Games
As always for this week's suggestions are all new titles that you should take a look at and consider spending your hard earned iTunes cash / time on.  Well the Free games just below certainly should all be given a shot as they won't cost you anything!
For The Cheapskates – FREE GAMES
 

MASTERABBOTT'S FREE GAME PICK OF THE WEEK!

PAC-MAN Dash! – Price : FREE – Publisher – Namco Bandai Games (Gobble up all the cookies and ghosts!
PAC-MAN keeps busy running and eating in this action-filled game! Available free of charge!Anyone can play! Just touch and jump! Touch the screen to jump and eat cookies and ghosts in this simple game! Comical PAC-MAN and ghost characters keep active! PAC-MAN and his friends, as well as ghosts and monsters all display a wide range of actions!) on iPad & iPhone. GET IT NOW FOR FREE

 
SongRush – Price : FREE – Publisher –

Bulkypix

 (SongRush is a musical arcade game that will allow you to play with your own music. Run, slide, jump and avoid all the obstacles. Beat your own music by pulling off perfect combos to win maximum points. Will you get to the end of your track? Try all the solo challenges and take on your friends in the weekly tournament. May the best rusher win!

) runs on iPad & iPhone.

GET IT NOW FOR FREE

 
Zombies Ate My Friends – Price : FREE – Publisher –

Glu Mobile

 (Welcome to Festerville, population 4,206 (mostly zombies). We hope you enjoy your visit: explore the town, take in the sights and sounds (mostly groaning), dine on whatever you can find, and get to know the locals (though we suggest you avoid the dead ones). For recreation, try zombie combat: use what you find, or visit one of the town's many weapon-crafting merchants for your choice of the finest hand-scavenged implements of zombie removal.

) runs on iPad & iPhone.

GET IT NOW FOR FREE

Devil Maker – Tokyo – Price : FREE – Publisher –

Palmple

 (The evolution of collectible card games is here! Play a unique FREE RPG card battle game unlike any that have come before! With exciting card battles, a strategic combat system, a captivating storyline, and outstanding card illustrations, you're sure to enjoy Devil Maker: Tokyo!

) runs on iPad & iPhone.

GET IT NOW FOR FREE

 
Just 2 Words – Price : FREE – Publisher –

Adveractive

 (Every puzzle's answer is just 2 words — a common pairing ("BROWNIE POINTS"), a famous person's name ("ELTON JOHN"), or a fun word combination that is forehead-slapping obvious after you figure out David's picture clues!

) runs on iPad & iPhone.

GET IT NOW FOR FREE
For The Bargain Hunters – 99c Games
 

Kamikaze Pigs – Price : $0.99 – Publisher – Chillingo (This little piggy went to war!Squeal, aim, and fire as you send these pork-bellied troops into a chaotic scramble. Simply tap to launch your attack and watch as these ham-handed pigs bring the war to its gristly end.) runs on iPhone & iPad. BUY NOW

 

Call Of Mini: Zombies 2 – Price : $0.99 – Publisher – Triniti Interactive (Another ZOMBIE OUTBREAK in the sequel to the worldwide smash-hit Call of Mini™ Zombies. Secondary weapons and a combo system have been introduced to the game. Fight off hordes of zombies and take on powerful bosses to save the world again!) runs on iPad & iPhone. BUY NOW

 

Contra: Evolution – Price : $0.99 – Publisher – Punchbox Studios (Contra: Evolution is the first official Contra game for iOS, bringing all of the run-and-gun action of the 1988 original with 21st century graphics and controls to the palm of your hands.  Bill "Mad Dog" Rizer and Lance "Scorpion" Bean are back to business fighting aliens in the jungles of South America–but can you survive one of the hardest games ever? Collect power-ups, unlock new levels and characters, and take on challenges in this arcade blast from the past. With updated HD graphics and future iOS 7 compatibility, get ready for a whole new Contra experience!) runs on iPhone & iPad. BUY NOW

 

Flyro – Price : $0.99 – Publisher – Brute Farce (Featuring dynamic difficulty and elegant touch controls, Flyro is the first runner that will always keep you challenged without being frustrating or overwhelming. You'll encounter progressively more advanced obstacles, from deadmines and barricades to trap barrels, rockets, electric halls, and more!) runs on iPhone & iPad. BUY NOW

 
Cannon Crasha – Price : $0.99 – Publisher –

GangoGames

 (Two opposing castles on one battlefield. Destroy each other with a comically large cannon, armed units and an armada of spells! See the destruction on each castle in real time and strategize your cannon shots by using the right artillery, watching the constantly shifting wind and aiming for the essential parts of your enemies castle! Up the ante by rushing towards your enemies with strategically summoned armed units and react to the enemies actions with defensive maneuvers and spells!) runs on iPhone & iPad.

BUY NOW
For The Millionaires – All games over $0.99
 

MasterAbbott's over 99c Pick Of The Week!

R-Type – Price : $1.99  – Publisher – DotEmu (R-TYPE, THE CLASSIC ARCADE SHOOTER, RETURNS AS A UNIVERSAL APP! Revisit the 80's (mesh half-shirts and Keds optional) with this classic, old-school shoot 'em up! One of the decade's most popular arcade games will awaken fond memories of jangling quarters, Jolt Cola and week-old popcorn. Fire up your iPhone or iPad and get ready to go back… to R-Type!) runs on iPhone & iPad. BUY NOW

 

Dungeon Of Legends – Price : $2.99  – Publisher – BBG Entertainment (Let magic and illusion enchant you and immerse yourself in a fantastic world full of dangers. As a novice you have to use your skills to get accepted to the magic school. Your mission is to complete the "Tower of Eternity". The tower consists of various areas, including the "Chambers of Illusions". With over 75 rooms of crazy puzzles, you'll need all your courage to solve them. ) runs on iPhone & iPad. BUY NOW

 
Twin Moons – Price : $4.99 – Publisher –

G5 Entertainment

 (Reveal shocking secrets from the past and save the future in this thrilling hidden object adventure! Jack, a researcher at the isolated Twin Moons Institute, has no memory following a car accident. But a few fuzzy flashbacks suggest he participated in some kind of dangerous experiment. Help Jack find answers to his numerous questions and decide whether his friends, colleagues and even his fiancée are worthy of his trust.

) runs on iPad & iPhone.

BUY NOW

 
Dead On Sight – Price : $1.99 – Publisher –

Bombhead

 (Blow zombies to bits and rescue the residents of the town of Resurrection in this original touch controlled sniper game. The population in the town of Resurrection have got problems: the dead have risen from their graves and are now eating the locals. Armed with a sniper rifle you have to fight off the undead and give the people a chance to escape. They will try to escape by running, climbing up ladders and hiding in buildings. The undead will be in hot pursuit and you must stop them before they make a meal out of them.) runs iPad & iPhone. BUY NOW
 

Pacific Rim – Price : $4.99  – Publisher – Reliance Big Entertainment (Pacific Rim is an all-new action fighting game inspired by the Warner Bros. Pictures and Legendary Pictures film from acclaimed filmmaker Guillermo del Toro. Piloting weaponized robots known as Jaegers, Earth's defenders must train their jockeys from rookie to ace in a Story Mode or challenge themselves to last as long as they can against waves of monstrous creatures, known as Kaiju, in Survival Mode. Do you have the skill to survive these battles? Time is short—so start building your lethal combat skills and weapons today or the world will pay the price!) runs on iPhone & iPad. BUY NOW

 

Einstein Enigma – Price : $1.99  – Publisher – BBG Entertainment (The new Brain Puzzle Game inspired by the famous Enigma Rotor Cipher Machine. Einstein™ Enigma allows you to challenge your brain in a playful, motivating way by solving more than 100 tricky puzzles and combinations. The basic principle of the game is to rotate six different colored wheels to match the different color templates of each puzzle) runs on iPhone & iPad. BUY NOW

 

Dungeonism – Price : $1.99  – Publisher – Jeffery Fal. (Dungeonism is a turn-and-tile-based dungeon crawler. It's not quite a roguelike, but it is rogue-ish. Taking equal inspiration from Pac-Man and Temple of Apshai, Dungeonism combines the strategies of turn-based RPGs and tile-based arcade games into a single unique gameplay style. It is engrossing enough to be played for hours, but its turn-based rhythm makes it easy to play in short bursts.) runs on iPhone & iPad. BUY NOW

 
Fallen World – Price : $2.99 – Publisher –

Oddity

 (Fallen World takes place in a post-apocalyptic world ruled by a machine army. Take the role of a deadly Cyborg Ninja; hack and slash your way through endless waves of robot enemies. Summon soldiers and torrent defense units into battle. Protect a young cyborg that holds the key to dismantling the mainframe and machine network.

) runs on iPhone & iPad.

BUY NOW

 
Bounty Arms – Price : $4.99 – Publisher –

Kerosene

 (From the team that brought you Editor's Choice BLADESLINGER comes BOUNTY ARMS, a beautiful, action-packed 3D adventure with simple, mobile-friendly controls. Play as Drake Mass, Goober, or Flux Helix and equip an array of loyal pets to complete quests, win bounties, and defeat epic bosses!) runs iPad & iPhone. BUY NOW
 
MetalWars3 – Price : $1.99 – Publisher –

Goorusoft

 (In 2100 A.D, the planet became a unified nation named "Earth Federation." However, the unification never lasted long. Minorities were up in arms against the EF, who desperately oppose the imperialism of the EF, insisting on secession from the unification. The EF forces brutally oppressed the Resistance Army, and yet the voices of dissent within the EF forces were growing louder accordingly. In the end, the secret organization, called ATLUS was found inside the EF forces. ATLUS has performed secret operation so as to eliminate the heads of the EF. Every pilots belonging to Bear Unit of ATLUS is spearheading highly covert operations.) runs iPad & iPhone. BUY NOW
 
Zombies!!! – Price : $1.99 – Publisher –

Babaroga

 (Zombies!!! puts you in the middle of the action in this video game adaptation of the hit board game. In order to escape the ever advancing zombie horde, players must use a combination of wits and brawn to be the first to the heliport and certain escape. The only problem is, the zombies are everywhere, they appear to be very hungry and your opponents would really prefer if you didn't escape.) runs iPad & iPhone. BUY NOW
 
Hakitzu Elite: Robot Hackers – Price : $2.99 – Publisher –

Kuato Games

 (Hack your friends to become the ultimate code warrior! Hakitzu Elite is an epic multiplayer robot combat game, where you learn the basics of coding while battling robots in single and multiplayer missions. Can you hack it?!) runs iPad & iPhone. BUY NOW
 
Sky Gamlers: Cold War – Price : $4.99 – Publisher –

Atypical Games

 (With an extensive single player campaign and a huge set of multiplayer modes, the non-stop action will keep you at the edge of your seat! Become the supreme lord of the skies in the latest Sky Gamblers title: Cold War! Go back in time with this great title and be part of unwritten history and covert operations. Enjoy the charm and power of the Jet Fighter domination race and master over a dozen airplane models.) runs iPad & iPhone. BUY NOW
 
Breach & Clear – Price : $1.99 – Publisher –

Gun

 (Breach & Clear brings deep tactical strategy to mobile devices! Build your Special Operations team, plan and execute advanced missions, and own every angle. Choose your real-world squad — US Army Rangers, US Navy Seals, Canada's JTF2, and more — and take on a variety of foes with different skill-sets and abilities. Learn to approach, engage, and dominate your opponent through superior tactics and training, while leveling your characters in one of the deepest progression systems created for mobile devices.) runs iPad & iPhone. BUY NOW
 
Futuridium EP – Price : $1.99 – Publisher –

Mixedbag Srl

 (You are a lone starship pilot who get lost in a dimensional loop just before a battle: with a limited and constantly depleting energy bar your only hope is to fly as fast as possible over enormous space dreadnoughts and destroy all the cyan power cubes, replenishing your energy tank and revealing the ship's power core, which must be destroyed to move to the next ship. ) runs iPad & iPhone. BUY NOW
 
Gardenscapes – Price : $2.99 – Publisher –

Playtrix

 (Create the perfect garden! Comb the rooms of a gorgeous mansion for hidden items and restore a once stunning garden to its former glory. Choose from tons of garden accessories to customize the garden to your taste. Become part of the city's community and compete in the "Best Garden" contest. No worries if you are a garden design novice – an amusing and witty butler, Austin, will always be of assistance. Become an outdoor decor pro in this cutting hedge Playrix game!) runs iPad & iPhone. BUY NOW
 
Dive For Treasures – Price : $1.99 – Publisher –

Eccentricity

 (We were hit by a terrifying storm. The ancient Mayan treasure went down with
the ship. Now the treacherous waters are swarming with pirates… Captain! You're our last hope. We're counting on you to take command of this dangerous submarine expedition. ) runs iPad & iPhone. BUY NOW
 
Best Park In The Universe – Regular Show – Price : $2.99 – Publisher –

Cartoon Network

 (Ready for the BIGGEST BEATDOWN in the cosmos? Help Mordecai, Rigby and Muscle Man battle aliens, monsters and deranged park employees in Best Park in the Universe!) runs iPad & iPhone. BUY NOW
There you have it folks these games should keep you busy for quite some time well until next week at least. I'll be back next week for another dose of iOS goodness, in the meantime if you would also like to suggest your own suggestions, please feel free to share them in the comments section below or in the iOS forum section on the site here.
Remember kids, Play Hard Or Don't Play At All!