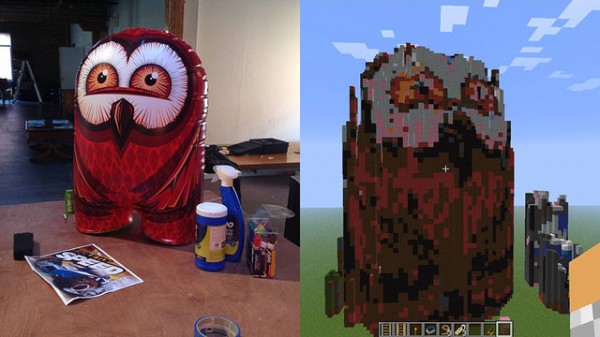 A few days ago, Dekko developer Portemantho told the Reddit community about the app they had recently made and submitted to the App store. This app allows you to scan an object from the real world, and then takes it and imports it right into Minecraft for iPad and other iOS devices. Now if only we could do this with the Kinect and the upcoming Xbox One Edition.
This soon-to-be app takes all the legwork out of recreating your favourite IRL things in Minecraft. DekkoScan allows the user to create a 3D rendered object via their iOS device camera and export it into Minecraft. As Portemantho explained on Reddit, DekkoScan's technology uses the iOS devices' live camera feed to track the patterns of objects, which means that the best type of objects to import would be simple objects with complex textures.
Based on their augmented reality racing car game, Tabletop Speed, released earlier this year, "[Dekko] thought it'd be cool to use that to export to other things, like Minecraft". Portemantho submitted it to the App store on the 11th of July and is now awaiting approval from Apple. Following the overwhelming positive response from the Reddit community, Portemantho also stated that Dekko will eventually release DekkoScan for Android if it can build enough momentum.
DekkoScan is highly anticipated by the Reddit Minecraft community. Many believe that this app could turn out to be amazing, given enough time and funds.