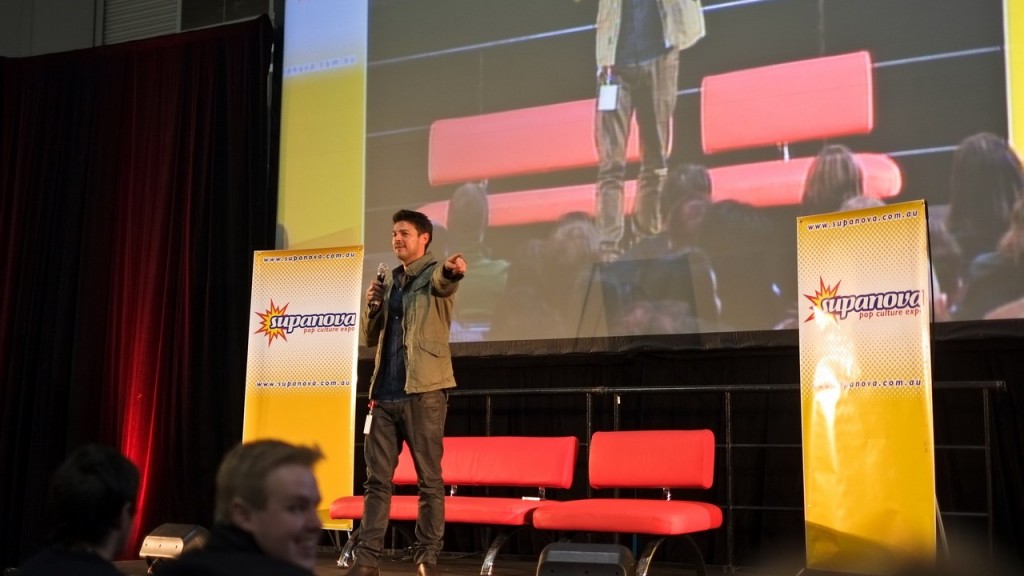 "MaMa's not the law…I AM THE LAW!" rung through the FilmInk theatre at the Supanova Pop Culture Expo 2013 as Karl Urban answered a request for the line after taking the stage for an entertaining Q&A session.
Although he started off with a dig – stating "Australia – the lucky country!…Because it's so close to New Zealand!" – we forgave him as he made fun of his own brethren: "What do Kiwis and sperm have in common? They come here in the billions, but very few work!"
That's just a small (hilarious) example of the sense of humour and light-hearted, likeable personality that Karl exhibits. The panel was named after his latest film, the blockbuster Star Trek Into Darkness, but the topics covered reached far beyond the film alone. Naturally, every nerd wants to know what it was like working with such outstanding directors and minds such as Peter Jackson and J.J. Abrams (Abrahams as Karl called him multiple times);
Both of them are the type of guys that are very adept and can think on their feet.

On Peter: We were shooting LOTR on the South Island and we turned up to set one day and it was completely covered in snow. […] So we're doing a block through of what we're gonna shoot, and I'm thinking "man we're gonna have the morning off". […] Peter just turns to the A.D. and says "let's just melt the snow"…within 15 minutes, there were 4 guys with industrial gas blowers melting the snow!

On Abrams: J.J. is quite incredible. He's probably one of the most brilliant directors I've ever worked with. He has a propensity to rap to the cast. […] I'll give you an example of how his mind works; I went up to him one day on set – we were shooting these scenes on the bridge of the Enterprise in Into Darkness – and I said to him "look, J.J., I've got all these lines, it's like 3 lines in a row where I'm talking in metaphors. Maybe we should just cut one of them out so I don't look like metaphor guy". And he looks at me and thinks about it for a second and calls Chris [Pine] over and gives him this line of "will you stop talking in metaphors?!".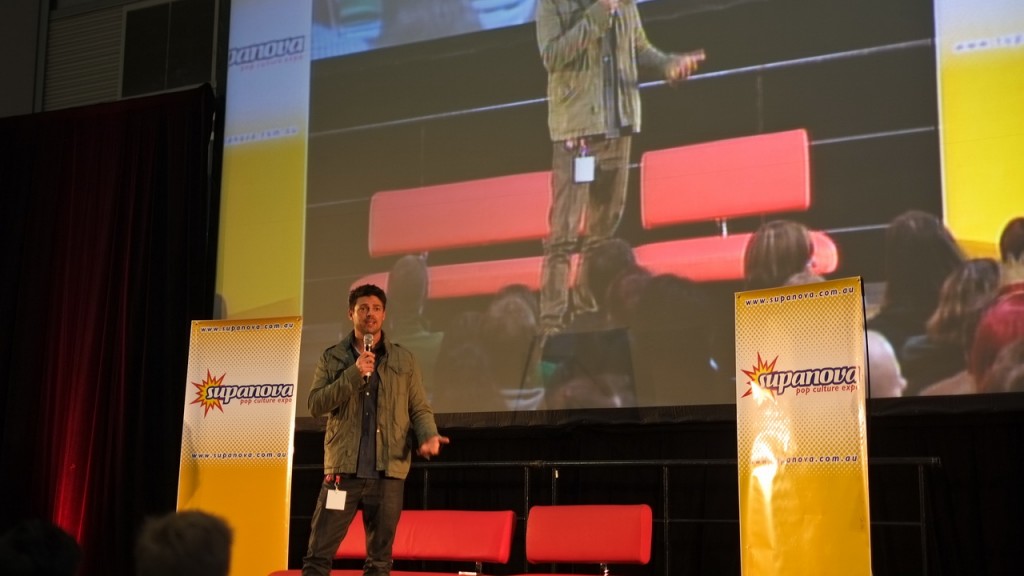 Someone soon after asked the hot button question – will there be a Dredd 2?
Well actually, I had breakfast with [Alex] Garland not too long ago in the UK. There is a distinct possibility that we'll be able to venture down that road. […] Bombard Lionsgate with emails!
Oh and as to whether he could beat Chris Pine in a cage fight (might have been the girl's fantasy), he simply replied "… Yes." From this we transitioned to creepy crawlies…more specifically, the cockroaches from The Irrefutable Truth About Demons (2000); a New Zealand horror movie in which the critters were filmed crawling around and in his mouth.
Yeah, they were real. I had cockroaches in my mouth, and I had maggots in my mouth for Ghost Ship [2002]. Tasty…Bear Grylls totally stole my act!
People often wonder if actors are being truly honest when they say they are familiar with a certain comic book character they have been pegged to play. So the question arose: how familiar with Dredd and "Bones" was Urban?
My introduction to Dredd was when I was a teenager working in a pizza parlour in Wellington. The manager of that was really into Judge Dredd and at that time, Quality Comics was releasing the Judge Dredd comics, which you could buy in the local servos and local dairies, so that's when I was first hooked into them. I was really kind of drawn o – not only the character of Dredd; the dry humour and the satire of it – but I was also drawn into the future world. I'm a huge sci-fi fan myself; I love Blade Runner and all that stuff.

I remember watching Star Trek with my Father – the original series, on the reruns – and I watched every iteration up until Deep Space 9, and saw all of the films.
Karl spoke of being the last to be in on any practical jokes, and becoming the ultimate victim because of that fact. While filming at NIF (National Ignition Facility), the cast and crew were in on convincing Karl that reported radiation levels were dangerous and he would be required to apply all sorts of ointments, creams…even requesting he "shake out the radiation", which the whole team did as part of the elaborate prank. He eventually discovered it was started by the always-cheeky Simon Pegg, and it then spread like a disease. Chris Pine was the first told. Karl recalled his own prank on Pine where he chose a random hotel number from those that were booked for the cast/crew and had that room foot the tab. When he probed (ever so sneakily) as to who was staying in which room, he discovered it was Pine's and was very pleased with himself. "It wasn't as elaborate, but it was just as effective!"
A member of the audience was interested in Karl's upcoming role in the new Riddick film. He gave a very encouraging answer, hinting at plans for more from our favorite (only?) Furyan;
I have a small role; I do a cameo that basically helps transition the last movie to the next. The next movie is more stripped back, like Pitch Black, but with the big production values are just as huge as Chronicles. Hopefully, if the next movie is received as well as I believe it will be, I'll be back to make the fourth.
Karl then gave us a prediction as to the future of Star Trek films: "I'm sure Paramount will want another Star Trek movie out in 2016, on its 5oth anniversary." He also touched upon his recently picked up television show 'Almost Human' with J.J. Abrams and Fringe show-runner J.H. Wyman, which will start shooting on July 20th and hopefully air here in November of this year. Karl was extremely personable and a joy to listen to and watch as he interacted with every single person who had a question for him. He even gave away 5 signed copies of the Star Trek Video Game courtesy of Namco Bandai! A truly great and humble guy that we should all root for in Hollywood.