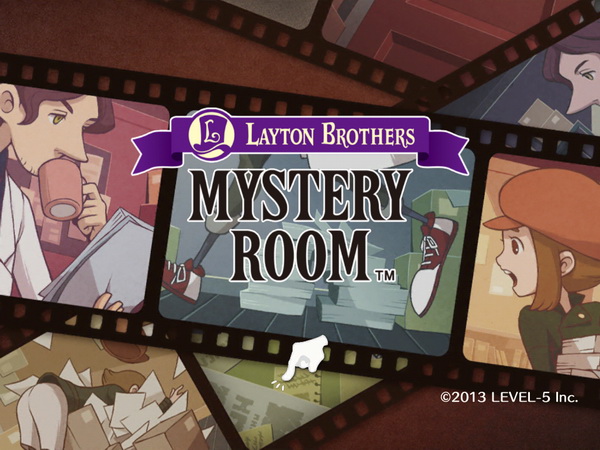 Welcome back for this week's iOS Game Suggestions. If you missed last week's, or are new to the suggestions, click on the link below and check out what cool games you should be picking up for your iOS device along with the introduction on how the suggestions work. (suggestions 1 has how it all works)
MasterAbbott's iOS Game Suggestions
A great week on iTunes! As always, it started slow and but ended with a bang! There are many must-buy games this week in all departments, FREE, 99c and over 99c. This week I've suggested a total of 22 great quality titles. Make sure you check them all especially… Layton Brothers Mystery Room, Siegecraft TD, Colin McRae Rally, League Of Evil 3, Samurai Shodown II, Magic 2014, Garfield  just to name a few.
Break down below :
12 – FREE Games
5 – $0.99c Games
5 – Over $0.99c Games
As always for this week's suggestions are all new titles that you should take a look at and consider spending your hard earned iTunes cash / time on.  Well the Free games just below certainly should all be given a shot as they won't cost you anything!
For The Cheapskates – FREE GAMES
 

MASTERABBOTT'S FREE GAME PICK OF THE WEEK!

Layton Brothers Mystery Room – Price : FREE – Publisher – Level-5 (The latest game from the PROFESSOR LAYTON adventure game series that has shipped over 15 million units worldwide! LAYTON BROTHERS MYSTERY ROOM is a new crime-solving mystery game featuring none other than the son of the great Professor Layton!) on iPad & iPhone. GET IT NOW FOR FREE

 
Magic 2014 – Price : FREE – Publisher –

Wizard Of The Coast

 (Ignite your spark with Magic 2014 — Duels of the Planeswalkers! Magic: The Gathering is the world's premier trading card game. Become a Planeswalker and travel the planes of existence unleashing a torrent of spells and creatures.

) runs on iPad & iPhone.

GET IT NOW FOR FREE

 
Arena Of Heroes – Price : FREE – Publisher –

Sneaky Games

 (Assemble your Heroes to fight intergalactic battles in this turn-based competitive battle arena. With new content released weekly you can customize your battles in this expansive sci-fi fantasy world that offers a true pick up and play experience. Through a variety of game modes, you can play live battles instantly, or for asynchronous play take your turns at your leisure. Download today and begin your Guardian training now!

) runs on iPad & iPhone.

GET IT NOW FOR FREE

 
Diner Dash Rush – Price : FREE – Publisher –

Playfirst Inc

 (Flo's back in the fastest Diner Dash game ever, and the lunch rush has hit! Help Flo swiftly seat, serve, and satisfy as many hungry customers as possible before time runs out as you compete with Facebook or Game Center friends. Earn special bonuses by collecting Flair from VIP customers and use powerful Boosts to send your score rushing to the top in Weekly Tournaments!

) runs on iPad & iPhone.

GET IT NOW FOR FREE

 
Smash Spin Rage – Price : FREE – Publisher –

Iddiction

 (SmashSpin Rage is the first of an epic trilogy brimming in centuries-old mysteries, adrenaline-fueled battles and eras of deceit. You have lost all that you have known and loved. All that is flowing through your veins is pure rage. Events have occurred that were out of your control and your fate is left spinning. Now, you must fight your way through the realm of the dead by smashing your way through limbo to right the wrongs of the past and to set order back to the universe.

) runs on iPad & iPhone.

GET IT NOW FOR FREE

 
Block Block Block – Price : FREE – Publisher –

Noodlecake Studios

 (Block Block Block is a simple, fun and relaxing puzzle game. The basics are easy. Solve the puzzles by getting 3 blocks of the same color in a row or column. Things get challenging however when multiple colors, moving blocks and various puzzle elements are introduced. If it gets too hard our dynamic hint system will help you by solving only some or all of the puzzle for you.

) runs on iPad & iPhone.

GET IT NOW FOR FREE

 
Sugar Rush – Price : FREE – Publisher –

Full Fat

 (POP 'EM FAST AND HAVE A BLAST! The most dynamic Match 3 Puzzle Game ever! It's a brand new way to play: Pop to match candies as fast as you can to get your Sugar Rush! Swipe up and down to make huge matches! Find and pop all of the Special Candies.
Trigger Jackpots for huge rewards. Equip sweet boosts for even bigger scores. Compete with friends in daily and weekly tournaments. Win prizes every day!

) runs on iPad & iPhone.

GET IT NOW FOR FREE

 

Global Supremacy – Price : FREE – Publisher – MeanFreePath (Make your mark on your city! Build real-world bases, take over real-world cities, and battle for supremacy with players from around the block and around the world! Global Supremacy is a real-time, location-based action/strategy game that takes place wherever you are in the world. Instead of made-up squares on a game map, you're playing in the real world.) on iPad & iPhone. GET IT NOW FOR FREE

 
Dark Manor: A Hidden Object Mystery – Price : FREE – Publisher –

Big Fish Games

 (The bayou. The roaring 1920's. A supernatural secret. Step into Dark Manor, where ghostly hosts will help you find your way! Beautify your manor and explore the spine-chilling hidden object scenes… if you DARE! Brought to you by Big Fish Games, the #1 publisher of Hidden Object games!

) runs on iPad & iPhone.

GET IT NOW FOR FREE

 

My Muppets Show – Price : FREE – Publisher – Disney (Join Kermit, Animal, Miss Piggy, and the rest of the Muppets for the performance of a lifetime! The famous Muppet Theater stage is yours to manage; it's up to you to reunite and recruit the all-star cast of Muppets, and put on the best show ever! Every Muppet that you recruit sings or plays a unique instrument in a larger musical number. Unlock them all to complete your very own Muppets Show in this all-new free mobile game!) on iPhone & iPad. GET IT NOW FOR FREE

 

Animals – Price : FREE – Publisher – Magma Mobile (Animals escape from the zoo ! In this new Magma Mobile adventure, help your favorite animals escape from the zoo and regain their freedom! This new platformer game will lead you to an incredible journey with wonderful graphics and music!) on iPhone & iPad. GET IT NOW FOR FREE

 

Metalstorm: Aces – Price : FREE – Publisher – Z2Live (From Z2 comes the sequel to the critically acclaimed MetalStorm: Online. MetalStorm: Aces is the next generation gaming experience exclusively for iOS devices supporting GameCenter driven real-time multiplayer online combat!) on iPhone & iPad. GET IT NOW FOR FREE
For The Bargain Hunters – 99c Games
Garfield's Wild Ride – Price : $0.99 – Publisher – Namco Bandai (Garfield's wildest adventure! Garfield can finally do what he does best: sleep! But little does the fat cat know that his favorite lazy pastime is the key to excitement and adventure. In Garfield's dreams, he can fly! Just touch the screen to take off and release to descend. Avoid obstacles and enemies to clear the various levels. On your way, collect coins and lasagna to help Garfield. With those, you will be able customize Garfield with fun accessories and add power-ups. Dive into this colorful cartoon world that everybody can enjoy!) runs on iPad & iPhone. BUY NOW

 

Vender Mender – Price : $0.99 – Publisher – Pixelchemy (Fix the vending machines, save the world! Or at least help people get their candy, drinks and tickets again. Help Raz the Raccoon fix the broken vending machines in this fun cartoon physics puzzler. Re-arrange the various parts of the vending machines to collect the coins stuck in the machines) runs on iPhone & iPad. BUY NOW

 

Keltis – Price : $0.99 – Publisher – USM (Follow the intricate paths of the celtic stones in an exciting race for the highest score. Play numbered cards to move your figures as far as possible along the colored paths of stone, collect as many wishing stones and bonus points as possible on your way to beat your opponents!) runs on iPhone & iPad. BUY NOW

 
Sqwords – Price : $0.99 – Publisher –

Toy Studio

 (Experience Sqwords, a refreshing blend of sudoku & crossword infused game play! Tap and move lettered tiles into place so that every row and column is a word as quickly as possible. With over 240 different puzzles across 5 unique boards (all with varying levels of difficulty, achievements, and more!) there is a challenge for you, your friends, and family!) runs on iPhone & iPad.

BUY NOW

 

Blendamaze – Price : $0.99 – Publisher – BorderLeap (See for yourself why fans are saying this about Blendamaze! Blendamaze combines labyrinth game and paint palette into a unique and beautifully-colorful game. You think you know your color theory? Try Blendamaze and discover a challenging, addictive new way to put your color theory skills to the test!) runs on iPhone & iPad. BUY NOW 
For The Millionaires – All games over $0.99
Colin McRae Rally – Price : $5.49  – Publisher – Codemasters (Hit the dirt as the ultimate off-road racing game experience, Colin McRae Rally, comes to iPhone and iPad for the very first time. From the developers of the multi-million selling franchise and based on content from the 90% Metacritic rated Colin McRae Rally 2.0, Colin McRae Rally for iPhone and iPad features THIRTY amazing rally stages with a combined distance of over 130km. Go flat out through the dirt of the Australian outback, take on dramatic climbs through the mountains of Greece and get sideways on the tight and twisty roads of Corsica.) runs on iPhone & iPad. BUY NOW

 
Samurai Shodown II – Price : $9.49 – Publisher –

SNK Playmore

 (SAMURAI SHODOWN II, the sword-based fighting game masterpiece has finally cut its way to iOS devices! Slash the powerful adversaries standing in your path, and put a stop to Mizuki Rashojin's evil ambitions!

) runs on iPad.

BUY NOW

 
Bounty Hunter: Black Dawn – Price : $2.99 – Publisher –

Freyr Games

 (A FPS (First Person Shooting) game with RPG element exclusive to iOS. A total of 4 classes with more than 100 skills and numerous random attribute equipment drops are at your disposal. Fight through large maps, challenging quests, and online multiplayer system. Come and join the adventure team on the Muspel Planet!) runs iPad & iPhone. BUY NOW
 

Siegecraft TD – Price : $2.99  – Publisher – Crescent Moon Games (After nearly 2 years of peace from the great wars of Siegecraft, the usually reclusive Lizardmen have risen up against the Knights of Freemoi. What is the reason behind this uprising? Where are your allies, the Vikings and Samurai of Freemoi?  Discover the answers to these questions and more in SIEGECRAFT TD!) runs on iPhone & iPad. BUY NOW

 

League Of Evil 3 – Price : $1.99  – Publisher – Ravenous Games (Get ready for the GREATEST platformer with the most responsive controls to hit the App Store yet! The award-winning and critically-acclaimed platformer for iOS is back again! The Agent and his "bad-guy turned good guy" chum are back for more tough as nails platforming with the series that redefined touch screen mobile gaming.) runs on iPhone & iPad. BUY NOW
There you have it folks these games should keep you busy for quite some time well until next week at least. I'll be back next week for another dose of iOS goodness, in the meantime if you would also like to suggest your own suggestions, please feel free to share them in the comments section below or in the iOS forum section on the site here.
Remember kids, Play Hard Or Don't Play At All!