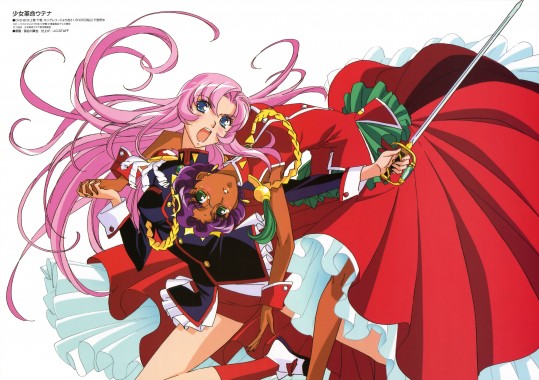 Hanabee Entertainment have just announced at Supanova Sydney 2013 that they have acquired the licence for the cult-classic anime series Revolutionary Girl Utena. Directed by Kunihiko Ikuhara of Sailor Moon and Penguindrum fame, Revolutionary Girl Utena is a must watch anime to say the very least.
The series is slated to be released in 3 parts all housed in a lovely collector's box bundled with a detailed booklet on the series. Part 1 will release on 18TH SEPTEMBER, Part 2 will release on 16th OCTOBER and Part 3 will release on 20TH NOVEMBER.
A chivalrous pink-haired adventuress will revolutionize the world!

"Never lose that strength or nobility, even when you grow up." When Utena was just a child and in the depths of sorrow, she found salvation in those words. They were the words of a prince, who wrapped her in his rose-scented embrace and bestowed upon her both a ring and the promise that it would lead her to him again. She never forgot the encounter. In fact, she was so impressed that she aspired to be like the prince and also help those in need.

Now a spirited teenager, Utena attends the prestigious Ohtori Academy. However, her strong sense of chivalry soon places her at odds with the school's student council and thrusts her into a series of mysterious and dangerous duels against its members.
This is the first time Revolutionary Girl Utena and its entire 39 episodes will be released in Australia. To put the cherry on top, the release will feature dual audio with an English dub alongside the original Japanese audio.