Just this afternoon at this years Sydney Supanova we got word from Hanabee that they have scored the license for the series; Lupin The Third: A Woman Called Mine Fujiko. There has been some great news that came out of Hanabee in the past couple days and this sweet release is just the icing on the cake that is awesome anime releases. The series is thirteen episodes long and will be released in two separate parts; part one will be released on the 16th of October and part two will be released on the 20th of November. The release is to mark the 40th Anniversary of this huge series and what a great one it is. There will be a limited edition combo pack and hardcover book that will be released along side the standard editions. The animation studio behind it is the same that did both Baccano and Knight Rayearth.
If you have no idea what Lupin The Third: A Woman Called Mine Fujiko is then keep on reading because you're about to find out. It is a series directed by Sato Yamamoto who did Redline, Eureka Seven, Samurai Champloo and much more. The music of the series will be done by none other than Shinichiro Watanabe himself who directed Cowboy Bebop, Samurai Champloo and Kids On The Slope which is another great Hanabee release.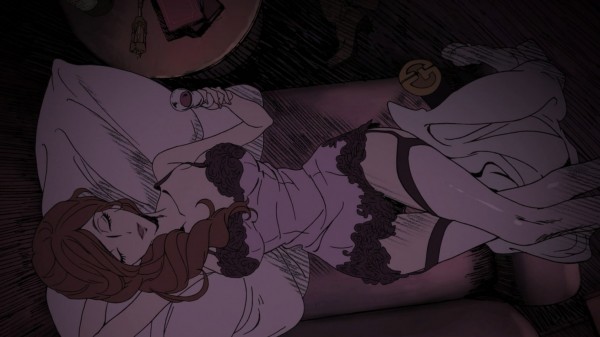 The official Hanabee series synopsis is as follows:
Behind every great man, there is a great woman. A cult has become the target of Lupin III's latest heist but he might not be the only one after the treasures that their leader has kept hidden. It seems the alluring lover of the cult leader may just be a thief herself and more than capable to handle Lupin in the race for the treasure. But in this chase to outsmart the other, this little game takes a twist for the unexpected when Lupin has set his sights beyond the cult's treasure to the female thief herself. Her name, Fujiko Mine, and Lupin may just be a little infatuated with this femme fatale beauty. What he doesn't know is that behind her wily charms lies a greater tragedy at hand.

This is the story of how Lupin III, the greatest thief of his generation, met his match in Fujiko Mine.
Once again Part one of Lupin The Third: A Woman Called Mine Fujiko will be released on the 16th of October so keep an eye out and start getting excited. Also don't forget to hit up our comments section below to drop us a line.