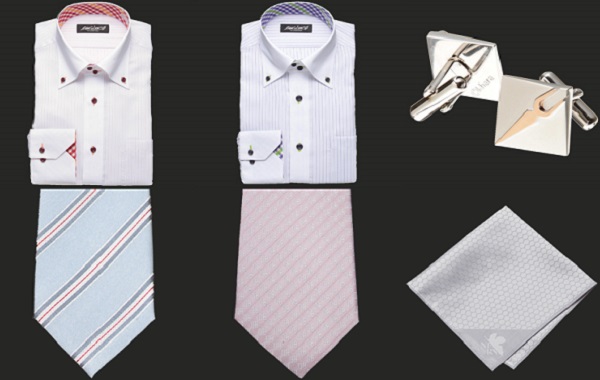 Japanese Businessmen and women will be able to purchase Evangelion themed clothing and accessories all throughout this month, allowing them to show off their interest for the anime around their workplace in style.
Japanese clothing company Haruyama have collaborated with Evangelion to create a special event store located on the second floor of Atre Akihabara 1 in Japan. Haruyama used Eva 3.0 as inspiration for the business shirts, ties, cuff links and handkerchiefs that are currently on sale, and will continue to be until the 23rd of June. The store will be open for seven days between the hours of 10:00 am – 9:00 pm.
The two stripe shirts and blouses are designed around the first, second and third Eva units; with the colors of each represented Eva shown on the inside of the collar and cuffs. The cuff links and ties also use color to represent the characters from the movie, rather than showing the characters on the actual items.
The clothes and accessories have successfully combined the Eva themes with the business style aesthetic; the average person would not see them as anime related clothing, but rather a neatly designed piece of office wear. Click here to check out the Haruyama X Evangelion online store.
The Third Evangelion movie, You Can (Not) Redo, will be licensed in North America by Funimation.